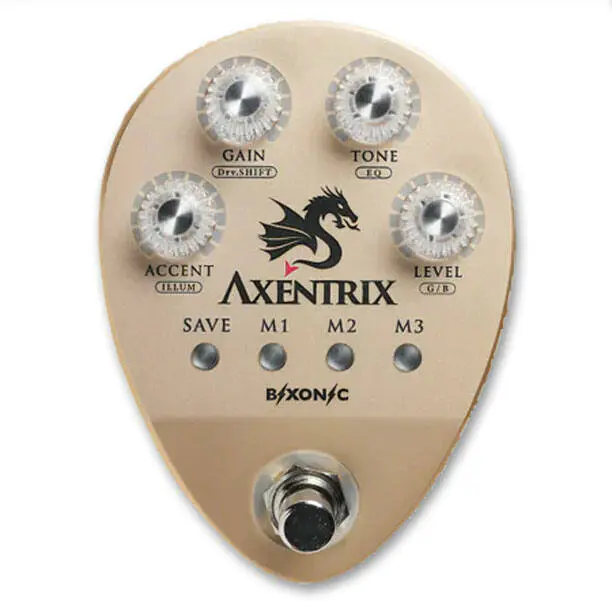 Released as part of the relaunch of the Japanese Bixonic brand (creator of the cult pedal Expandora), the Axentrix A1 is a digital gain pedal with a series of innovative features that can deliver the entire spectrum of saturated tones, including fuzz.
The fully analog Expandora, released in the mid '90s, was one of the first gain pedal able to deliver overdrive, distortion and fuzz tones in one box, and the Axentrix can be seen as a digital evolution of that circuit, with an added 3- Preset system.
It offers four modes: Crunch, Overdrive, Distortion, and Fuzz, accessible by tapping on the Gain knob, which will change the color of the knobs' lights according to the mode.
The resulting sound can be instantly tweaked using 4 knobs: Level, Gain, Tone, and Accent. The latter is a control that directly links this pedal to the Expandora, applying that circuit's voice and dynamics to your tone.
This is how the manufacturer explained this control when we inquired vial email:
If you turn this knob to the right, you get an Expander Effect.

It is a digitized version of the expansion circuit (analog circuit using a photocoupler) that originally characterized the sound of the old Expandora. Plucking a guitar string hard produces a louder sound, and plucking it softly produces a softer sound. The strength and weakness (nuances) of the sound will be sharpened, and the power of expression will increase. In addition, the volume can be lowered simply by adjusting the volume knob on the guitar, making it easier to use the volume knob to add expressiveness to the melody by varying the volume.

Meanwhile, if you turn this knob to the left, you get a Compressor Effect.

This is a feature that the original Expandora did not have. Normally, it is common to use a Compressor pedal in front of the distortion pedal, independent of the distortion pedal. Instead, think of the Axentrix as having a simple built-in compressor. The effect is that even if you pluck the guitar strings softly, the sound will be loud. When used with a distortion pedal, the decay time of the sound is lengthened, resulting in longer sustain (like a violin).
On top of all this, the Axentrix's digital circuit allows it to feature a string of useful controls accessible by tapping on the single knobs.
These include:
3-band EQ in addition to typical tone control
3 Preset slots
Adjustable Buffered Bypass
Instrument Select Input (Guitar or Bass)
Adjustable illumination
Tuner
Check out the first videos of the Bixonic Axentrix A1, below.
Bixonic Axentrix A1, Builder's Notes
Accent function for a wide variety of expressions: the Accent knob is one of the best tricks that the Axentrix has to offer. It carries on the unique dynamic range expansion effects of the legendary BIXONIC Expandora to produce a plethora of great-feeling tone tricks.
Four selectable drive modes. (Crunch, Over Drive, Distortion, and Fuzz)
Switchable True Bypass or rich and clear Buffered Bypass
3-band EQ in addition to typical tone control
Adjustable Buffered Bypass Sound (EQ and ACCENT)
Instrument Select (Guitar or Bass)
Adjustable illumination
3 Memories for saving favorite sound settings
Tuning meter for both guitar and bass