Updated Sep. 7, 2021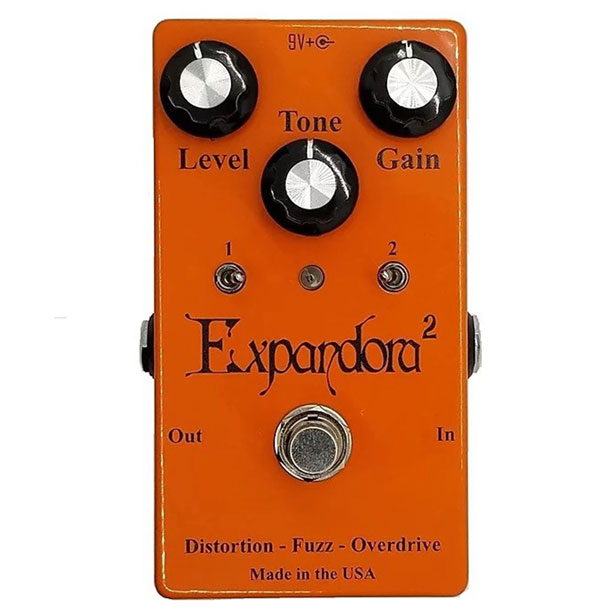 The original Expandora pedal was a round, sonically multifaceted dirt box released in the mid-'90s by Japanese builder Bixonic. It's now being reissued and relaunched by a New Jersey-based company that's also offering a "squared" version of it, hosted in a compact orange enclosure.
Although the original wasn't particularly successful, the Expandora was ahead of its times for offering a wide array of tones through a series of dip switches (internal at first, external later) that allowed the pedal to sound like a distortion, an overdrive, or a fuzz.
The final version features just two toggle switches for a total of four combinations producing Crunch, Overdrive, Distortion and Fuzz modes through a circuit faithful to the original design employing two vintage NOS LM308 Single Op-Amp Chips and a RC4558 Dual Op-Amp.
Some enhancements were made to improve the headroom and to make it compatible with line instruments.
If you are wondering how it sounds, check out the video below.
The Expandora Squared is a fresh recreation of the vintage round Expandora from decades ago.  The circuit is faithful to the original pedal design, including Crunch, Overdrive, Distortion and Fuzz modes.  However the mode switches on this version are right on the face of the pedal for easy access.

Enhancements have been made to the original schematic for improved headroom.  There are tweaks to create a thicker, less buzzy tone.  And we have added enhanced power filtering for less noise when connected to a standard power supply.  The Expandora is made with pride in the USA.  This pedal rocks!

All Expandora pedals work great with Guitar, Bass, Keyboards, and everthing else!