Updated Oct. 12, 2018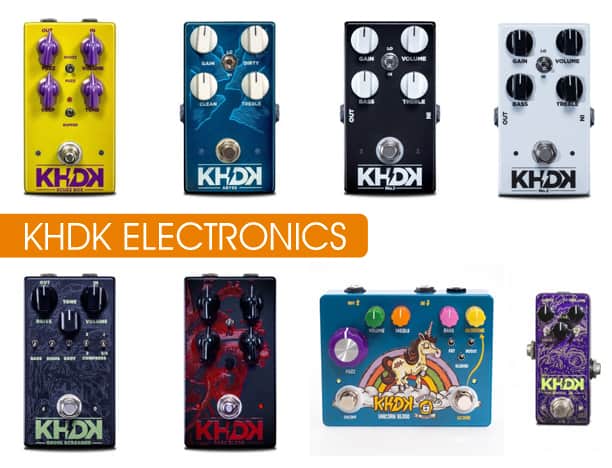 The idea behind KHDK Electronics came about over late night beers, back in 2012. The company's name combines the initials of its founders – guitar god and heavy metal icon Kirk Hammett of Metallica and business partner David Karon, who worked with Kirk previously to design his signature Randall amp back in 2008. Head engineer Antonin Salva (of Salvation Mods) was subsequently brought on board to offer his industry and electronics expertise.
Their product line currently features a solid amount of overdrives, distortions and fuzz boxes with a focus on analog design. All of the pedals offer an innovative variety of tonal control options, giving access to sounds that many similar pedals don't. The initial rollout consisted of just 3 pedals – The No. 1 overdrive and No. 2 clean boost as well as Hammett's signature Ghoul Screamer overdrive, touted as a "Tubescreamer on steroids". They have since expanded their product line to include fuzz boxes and distortion pedals, with about 10 more products currently in development. They are also working on a design for Kirk's favorite effect and the one most closely associated with him – the wah pedal.
As someone who has developed a solid line of signature gear with some of the biggest companies in music and has amassed an insane collection of guitar pedals over the course of his career, it came as a bit of a surprise to some that Kirk decided to form his own boutique pedal company. But he is much more than just a namesake and is heavily involved in the design process. After some growing pains with the initial manufacturer the company shifted build operations to a small family-run factory in Kentucky that emphasizes strict quality control. Each pedal is plugged in and hand-tested before it leaves the factory.
KHDK pedals aren't aimed strictly at metal heads either. They are re-interpretation of familiar designs that offer a variety of tones compatible with many style of music. With a team as capable as this headed by a guitar legend it will be exciting to see what's coming next.
Unicorn Blood
As mythical as the beast it's named after, this is a limited run octave fuzz that can get hairy in both retro and modern ways. Colorful knobs control a colorful amount of Fuzz and Volume, with EQ controls over Treble and Bass. Switches for Fat, Boost, and Sludge help to further shape your sound. Fat lets you choose a mid-boost or a scooped sound, Boost adds more gain, and Sludge beefs up the low end before the gain section. The Octatone controls works in conjunction with your pickups to find the sweet spot for your particular fuzz sound.
Ghoul Screamer
This is Kirk Hammett's signature pedal and one of the first available from the company. Hailed as a Swiss-army knife "Tubescreamer on steroids", it features 5 toggle switches in addition to the standard 3 controls of Gain, Volume, and Tone. Three EQ switches enhance Bass, Highs, and Body (mids) while the other 2 access different types of compression in the circuit, lending to different types of overdrive tones. It's scary how well this thing screams.
Dark Blood
The Dark Blood is designed to get a tube amp-like distortion and response with a midrange focus. The circuit is a hybrid solid state and MOSFET design and in true metal fashion, there is a treble booster added to the front end of the circuit. It's got great midrange presence and clarity, and absolutely slams if you're looking for a pedal that can stand well on its own or juice the front end of your amp.
The Hi Gain switch adds more sustain without becoming overly compressed. It does a fantastic high-gain sound for heavy rock, but it might not provide enough gain on its own to handle more extreme styles of metal. Feel free to get as heavy as you want with it though, as it also includes a noise gate feature.
Ghoul JR
The Ghoul JR is KHDK's foray into mini pedals. The familiar 3 knob control scheme is here, with switches to alter Voice and Style. The Voice switch offers 3 positions – a bass boost, more midrange, or the standard voicing. Style offers added compression or a more open and dynamic response with increased headroom. It doesn't offer quite as many tonal variations as the Ghoul Screamer, but the most important elements are here.
Scuzz Box
The company's flagship fuzz offers two different modes – Fuzz and Scuzz. Fuzz mode is a germanium-voiced fuzz, while Scuzz takes you into hairier territory. Fuzz and Volume controls set your levels while the Deep and Tone controls offer a good amount of control over the EQ. A final toggle switch lets you choose between true or buffered bypass. It can get pretty nasty but don't let the name fool you – it's pretty articulate for a fuzz pedal.
Abyss
Give your bass tone some love with this parallel overdrive that provides boost and crunch just like some of the most popular tube heads. Using 2 circuits, the signal is split using bi-amp technology in order to best retain the presence, punch, and color that is so often sacrificed when using bass overdrive pedals.
It features separate but parallel Dirty and Clean controls so that you can dial in the right balance for any situation. The Hi setting adds more of the good stuff – more gain, increased sustain, a low end boost and additional compression.  It's just like using 2 amps, but in the convenience of a stompbox!
No. 1
No. 1 is an overdrive that provides spot-on amp-like tone and response that sounds great with any kind of rig. The overdrive you can dial in has a pleasant chime and openness to it, and while it can produce a nice amount of gain it never seems to feel overly compressed.
It features a combination of op-amps and MOSFET technology with cascading gain stages, and the Bass knob not only helps reel in the low end but works in conjunction with the amount of gain provided to the second stage. Designed by Kirk, Dan Donegan of Disturbed, and metal super producer Tue Madsen the No. 1 seems like an appropriate moniker.
No. 2
Although it's marketed as a clean boost, the No. 2 is capable of much more. Like the No. 1 it features cascading gain stages, just not as much drive. With the gain knob dimmed you get a nice bluesy breakup, as the pedal has a sweet quality to the sound reminiscent of the British amplifiers that Kirk loves so much. There is a toggle switch to get more gain out of it, and the No. 2 is right at home pushing the front end of an amp with its chiming, uncompressed sound.