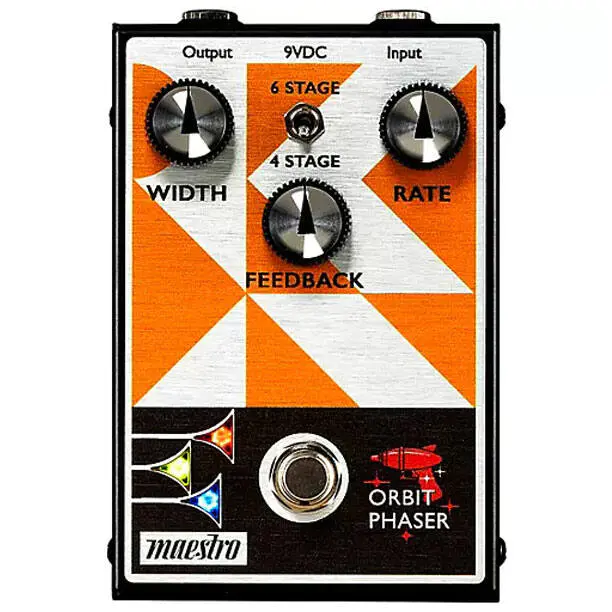 The Maestro Orbit Phaser is the direct descendant of the first phaser pedal ever released (in 1971): the 3-speed Maestro PS-1 Phase Shifter, which can be found used online for around $500 USD or more.
This mono, fully analog, 3-knob + 1 switch pedal recreates the warm phasing effect of the classic in two flavors: 4 or 6-stage phasing, selectable through the toggle switch.
As with most pedals of this kind, controls for Width and Rate allow fine-tuning of the intensity and speed of the effect, while the Feedback knob sets the amount of "vowel" character found in the phasing.
Here's how it sounds, we added it to our article about the best phaser pedals.
—
Maestro Orbit Phaser, Builder's Notes
The Maestro Orbit Phaser is a descendent of the very first phaser pedal ever produced – the legendary Maestro PS-1. This classic effect has been re-engineered and tailored to the needs of today's players. The Maestro Orbit Phaser is designed to optimize all the character and vibe you expect from an all-analog phaser.

Warm and smooth, the Maestro Orbit Phaser offers all the versatility needed to dial in the tastiest of phaser effects. Its two-position Mode switch gives you a choice of 4 or 6-stage phasing. The intuitive 3-knob control layout lets you quickly set the desired Width (the intensity of the phaser effect), Feedback (emphasizing the amount of vocal phase effect), and adjust the Rate (speed) of the phasing effect. The true bypass footswitch triggers the LED lights in the bugles . . .