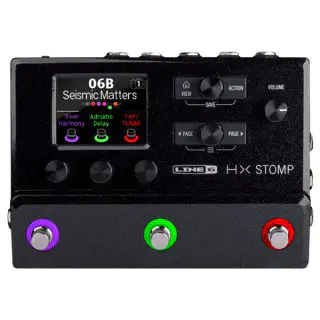 Line 6, the company that introduced amp, effect and even guitar modelling to the masses, just unveiled their latest product in the Helix multi-effect line, the HX Stomp, which packs all of the Helix's amps, cabs, and effects into a stompbox roughly the size of a BOSS Space Echo.
The size is central in this case because the previous Helix products were as big as a regular size pedalboard, and therefore didn't lend themselves well to integration with rigs featuring other stompboxes: they were complete systems designed with the intent to replace your board rather than be part of it.
This shift in size and philosophy makes this pedal a lot more appealing for all the guitarists out there (probably the majority) who enjoy constantly upgrading their boards with new pedals but also find it useful to rely on a device that can drastically open up the palette of tonal options (while also providing tuning capabilities).
Line 6's top-notch reputation for quality digital effects and cab emulations makes this pedal a serious contender in the small arena of do-it-all, great-sounding, small footprint multi-effects.
Here are the latest videos of the Line 6 HX Stomp!
https://www.youtube.com/watch?v=tDcwTg4eAS0
The Anderstones took a deep look at the Line 6 HX Stomp by inviting Line 6's Paul Hindmarsh to their YouTube program, here it is for you!
Line 6 HX Stomp Multieffect Processor, Builder's Notes
HX Stomp™ is a professional-grade guitar processor that delivers the sound of Helix® amps, cabs, and effects in an ultra-compact pedal. Whether you prefer to play through a traditional amp-and-pedal setup, or go direct onstage or in the studio, HX Stomp seamlessly integrates into a variety of environments and applications. Utilizing the same DSP and HX Modeling technology as its bigger Helix brethren, the HX Stomp guitar pedal nonetheless fits easily onto your pedalboard, or even in the pocket of your gig bag. There are over 300 amps, cabs, and effects—including a looper. HX Stomp contains all the same HX models found in Helix family products, as well as the legacy effects library from Line 6® M-Series pedals, and stompbox modelers such as the DL4™. Use it as a "super stompbox," a backup or fly rig, an add-on tone expander when combined with other modelers, an audio interface—or even a complete guitar or bass rig.