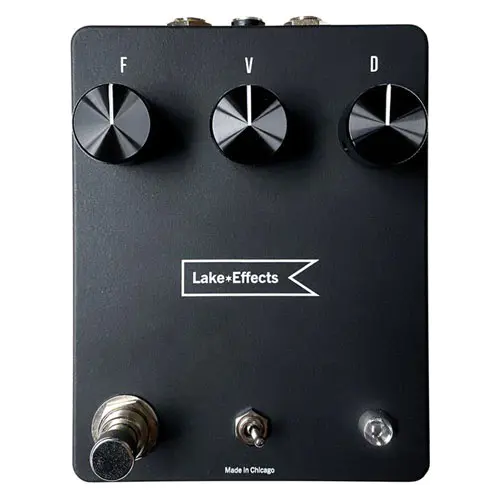 Many architects like minimalism, preferring few well-placed touches to the maximalism of "more for the sake of more. Chicago-based Lake Effects is a pedal company run by an architect, and – in line with our premise – advocates for "A minimalist and practical approach to gear for less noise and more tone."
You can see that in action in their first release to date, the FVD Distortion, a Rat-style pedal with versatile controls (Filter, Volume, and Drive, like in the original unit) and a clipping toggle to select Germanium or Silicon diode.
The design of the circuit makes it more flexible than the model that inspired it, delivering tones ranging from low-gain boost to full-on shoegaze walls of distortion.
Hear how the Lake Effects FVD sounds in the video below.
Minimal Rat. A visually clean and sonically dirty pedal with the classic Filter, Volume, and Drive controls on a rat-style circuit. The versatility in the control knobs allow for a range from low gain boosts to gnarly shoegaze. The filter knob dials-in bright/classic rock tones to dark and fuzzy drones. Simple design yet endless combinations, plays nice with others.

Clipping Toggle:
Right = Silicon Diode Clipping
Left = Germanium Diode Clipping

Details:
– 1590BB Enclosure
– 4.67 in x 3.68 in x 1.18 in
– Top Mounted 1/4″ mono jacks
– Top Mounted 2.1mm DC power jack
– 9VDC center negative power (standard Boss style)