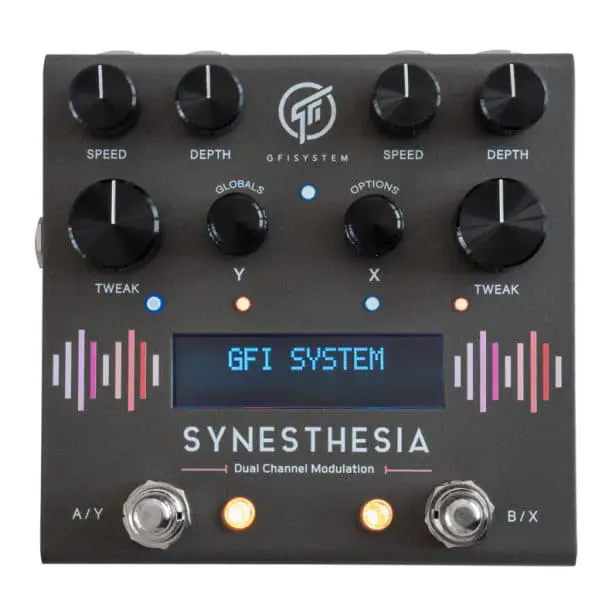 These days, dual-engine pedals seem to be the way forward in a scene constantly striving to devise effects that offer new textures and unheard sonic combinations.
Indonesian builder GFI System is, with a few other companies, ahead of the game in the digital effects' engineering field, and their new stompbox Synesthesia is one of the first dual-engine modulation pedals out there – the only other one we are aware of is the Mooer Mod Factory Pro.
Dual modulation, in a multi-mode stompbox, is indeed an intriguing concept (in particular in a stereo configuration) for a few reasons: firstly, very few players are interested in buying separate pedals for each modulation type, so the multi-mode nature of the effect allows access to the whole spectrum of modulation effects through just one device – in this case, with the advantage of being able to play two of them at once. But most importantly, the dual feature opens up interaction possibilities between separate effects that are not easily achievable when using two separate stompboxes – especially in stereo.
The GFI Synesthesia delivers all this through an easy to understand user interface featuring just eight knobs (two with push function), two footswitches and a small screen.
The pedal offers 30 on-board algorithms – with the promise of more to be made available via the SymmLab editor – which can be organized in three different DSP routing schemes.
Check out the videos of the GFI System Synesthesia. We added it to our comprehensive article about the best multi-modulation pedals.
GFI System Synesthesia, Builder's Notes
Synesthesia is an advanced, yet user friendly dual-channel multi-modulation engines, capable of running two modulation algorithms simultaneously. Packed with 22 classic and modern algorithms (expandable to 30 with future updates) and 3 different DSP routing schemes Synesthesia offers limitless sonic possibilities.

Synesthesia is not just another modulation pedal. By marrying a powerful dual-engine architecture with rich and deep algorithms we provide players with immersive and 'colorful' modulation effects experience, hence the name : Synesthesia.

Up to 30 on-board algorithms– more will be made accessible via the SymmLab editor.