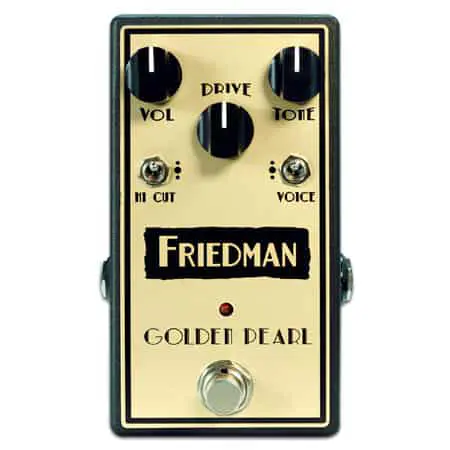 The Friedman pedal line is probably the biggest success story of the last decade in the challenging and overcrowded field of gain pedals and dirt boxes. In our 2017 survey of the best selling overdrive pedals the LA builder managed to place two of its designs in the top ten, in a list filled with mainstream names like BOSS, MXR, TC Electronic, and – of course – Ibanez.
Because of this, tone maniacs should be excited about the release of a new Friedman overdrive, called Golden Pearl – in particular considering its rather affordable price pint ($169.99)!
This transparent, lower gain overdrive can be used for two main goals: get an semi-broken up tone from a clean amp, and push an already overdriven amp into saturation.
For the price, the level of control offered by the Golden Pearl is remarkable, with a three way Hi Cut toggle switch that lets you fine tune the pedal to your amp, and another three-way Voice switch providing LED, diode, or no clipping voice options.
Hear it for yourself in the demo below, and if you are fan of the company's flagship BE-OD you shouldn't miss the Deluxe version of it, which was announced on the same day as the Golden Pedarl.
The Friedman Golden Pearl is a transparent, lower gain overdrive pedal designed to push already overdriven amps into seductive saturation. This versatile pedal can also be used into a clean amp to achieve that elusive semi-broken up tone.

Designed to please the ultimate tone connoisseur, the responsive controls, along with the three position high-frequency cut switch, let you custom tailor the pedal to your amp.

Even greater refinement is available via the tri-mode clipping mode switch, which provides LED, diode, or no clipping voice options. Built in the USA, and designed to withstand decades of abuse, the Golden Pearl is a must have pedal for any guitar player.