Updated Sep. 14, 2020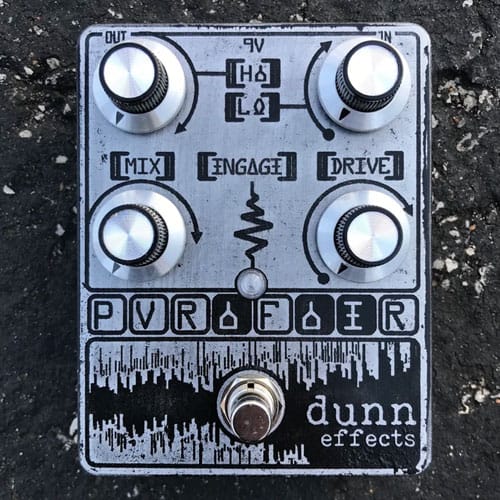 The Dunn Effects Pvrifier is a take on the circuit of the Ibanez LF7, a lo-fi analog filter overdrive pedal that has recently found a niche of fans among the stompbox collectors.
A lot more flexible and useful than the original unit, the Pvrifier features a Hi- and Lo-pass filters followed by an overdrive and a Mix knob, and it behaves like a quintessential character box, producing a range of dirty/saturated tones from telephone-style grittiness to smooth overdrive and crunchy chords.
The ever useful Mix knob allows you to reintroduce some of the clean signal to add definition and dynamics.
Check out the video of the Dunn Effects Pvrifier, below.
Re-imagining of the LF7 lo-fi analog filter overdrive pedalTop loaded inputs
Bright blue indicator LED
True bypass wiring
Standard 2.1mm 9V DC power jack with negative center pin

dunn effects are all hand-made heavy effects pedals for electric guitar or bass, and assembled by myself in my workshop in Saint Louis, Missouri, USA.
Please allow up to 6-8 weeks for delivery (within the US).
International shipping available at a flat rate. All duties, taxes, import charges, etc., are applied.
Tracking numbers are provided by email for every shipment.

NOTE: ALL SALES ARE FINAL!
We cannot offer refunds under any circumstances.
In the event your pedal was damaged in transit:
1. If it is within reason to repair (and the enclosure is not visibly damaged), please send the pedal back and it will be repaired or replaced at no cost.
2. If it is beyond repair, a claim will be filed with the shipping service and the pedal will be replaced once the damaged unit has been returned.