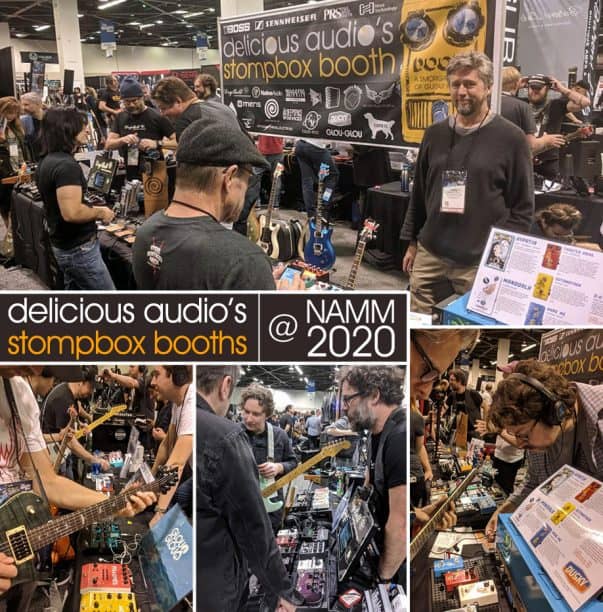 Once again, we'll be at Winter NAMM with two booths hosting several emerging boutique pedal builders. In this section, we highlight their latest releases. If you are going to NAMM, don't forget to stop by booth #5046 and #3423!
Check out also our coverage of the new pedals released at NAMM here: Gain Pedals – Non-Gain Pedals.
This year our booths will be sponsored by:
BUILDERS AT BOOTH #5046
—
BUILDERS AT BOOTH #3423
---
About the Delicious Audio's NAMM Stompbox Booths
Delicious Audio organizes in-the-headphones pedal (and synth) pop-up events in several North American cities and, starting 2020, also in the UK. Pictures of our past events can be seen SB Pics.
At both NAMM shows we give the opportunity to smaller pedal builders to attend these important musical instrument conventions at a fraction of the cost, through the shared Stompbox Booths.
Some now established builders have started attending NAMM through our shared booths, including Red Panda, Meris, Old Blood Noise Endeavors, Fairfield Circuitry, and DryBell among others. Bigger manufacturers like EarthQuaker Devices, Walrus Audio, Source Audio and Chase Bliss Audio occasionally take part in these shared booths as well.
Pedal companies interested in reserving a spot for the upcoming Summer NAMM (Nashville, July 9-10) and Winter NAMM 2021 can reach out to paolo.dg@thedelimag.com.
The Folks at Delicious Audio