Updated Aug. 20, 2021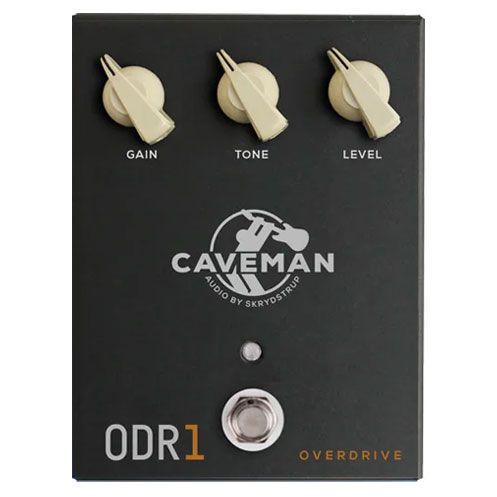 For such a small country, Denmark has a surprisingly rich pedal-making history (for example, we could easily name half a dozen relevant Danish stompbox builders, but none from neighboring countries of the Benelux). Caveman Audio may not be as well known as others from the Nordic country, but the brain behind the brand (his name is Steen Skrydstrup) has been developing custom solutions for musicians for over 25 years – more about this here.
The company manufactures a variety of devices for electric, acoustic, and bass guitars ranging from amps, preamps, cabs, switching systems and, of course, pedals, with a marked focus on dirt boxes.
Their ODR1 is a simple three-knob overdrive that can be filed under the crowded "dynamic and transparent" category, but it's not a clone. Actually, it is, but it recreates the tone of the company's own X2 Tube Amp, employing carefully selected Germanium diodes to deliver anything from the crispiness of a semi­-cranked VOX AC30 to the grit of Hendrix's tone.
You can hear the sound of the Caveman ODR1 Overdrive in the video below.
Dynamic overdrive with natural harmonics right at your feet

ODR1 is a smooth, dynamic overdrive, designed to emulate the overdrive sound of our highly recognized X2 Tube Amplifier.

The ODR1 gives you overdrive tones ranging from the classy crispiness of a semi­-cranked VOX AC30 to the addictive grit of Hendrix. We use carefully selected Germanium Diodes to get as close to the natural compressed tone of a tube as possible.

The pedal is housed in a rugged steel chassis that is built to withstand extensive daily use and continuous touring.
We have carefully selected all components to ensure superior sonic qualities, minimal noise and reliable use for years and years.

All ¼" jack connectors are gold-plated, and all internal wiring utilizes high-quality, shielded audio cable with minimum DC resistance and capacity.

When switched OFF (bypassed), ODR1 acts as a unity gain line driver, capable of driving even very long cables without tonal loss or unwanted coloration.