Posted by
OVER 250 PEDALS!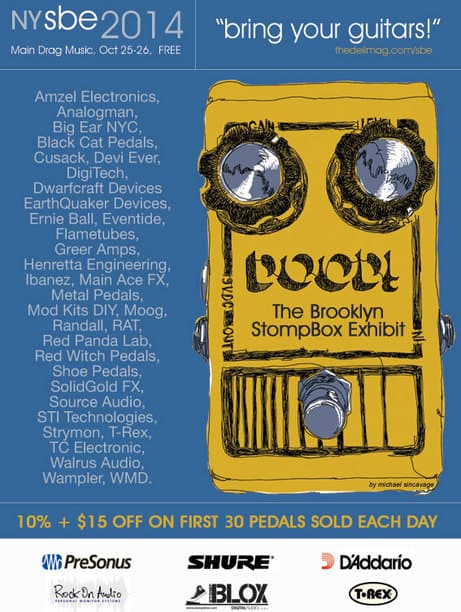 Add to Calendar10-25-2014 12:00:0010-26-2014 19:00:0015Stompbox Exhibit at Main Drag200+ Guitar Pedals in the headphones!Main Drag Music, WilliamsburgThe DeliOrganizer e-mailhttps://www.facebook.com/stompboxexpotrueDD/MM/YYYY
DIRECTIONS TO MAIN DRAG MUSIC HERE
————–
The Deli, Delicious Audio, and Main Drag Music are proud to announce the 4th edition of The NYC StompBox Exhibit, a free for all interactive display of guitar effect pedals  – pictures from last year's awesome show are here.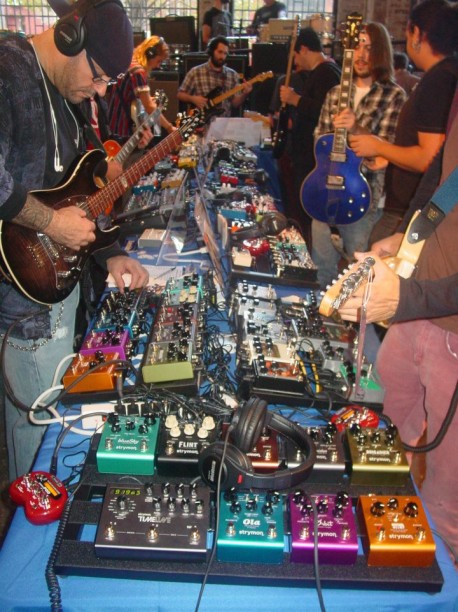 Hosted at Williamsburg's premier guitar store Main Drag Music, located in the heart of Brooklyn's most musical neighborhood, this year's exhibit is scheduled for October Saturday 25 and Sunday 26 (from noon to 8pm on Saturday, and from noon to 7pm on Sunday).
Many big and small guitar pedal manufacturers will be present, here's the list at this point:
Amzel Electronics Analogman, Big Ear NYC, Black Cat Pedals, Cusack, Devi Ever, DigiTech, Dwarfcraft Devices, EarthQuaker Devices, Ernie Ball, Eventide, Flametubes, Greer Amps, Henretta Engineering, Ibanez, Korg, Main Ace FX, Metal Pedals, Mod Kits DIY, Moog, Outlaw Effects, Randall, RAT, Red Panda Lab, Red Witch Pedals, The Schaffer Replica, Shoe Pedals, SolidGold FX, Source Audio, STI Technologies, Strymon, T-Rex, TC Electronic, Walrus Audio, Wampler, WMD.
Many thanks to our Sponsors Shure (provider of the headphones), PreSonus (for their headphones preamps), D'Addario (string sponsor), Stompblox (provider of pedalboards), Rock On Audio (for their cables) and T-Rex's Fuel Tank Jr. (provider of power for our mixed boards).
You can find updated information about this show on the Stompbox Exhibit's Facebook page at facebook.com/stompboxexpo.