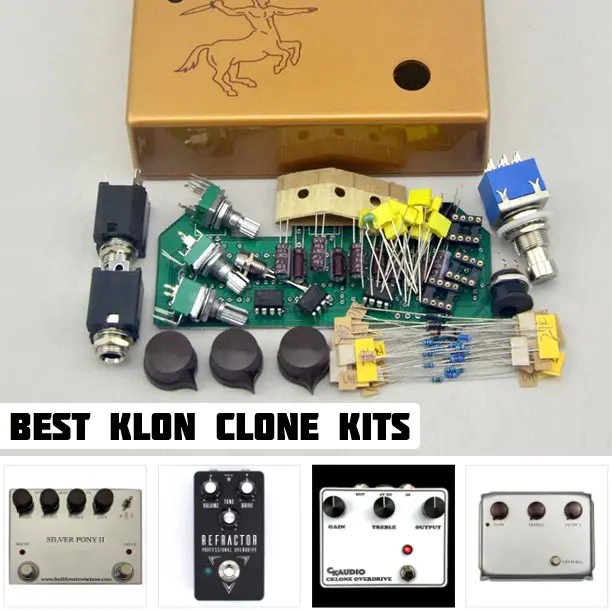 A Guide to the Best Klon Clone Kits
Updated on 05.17.2021. For a more complete list of Klon clones, check our Best Klon Centaur Clones article. 
As you probably know, the original Klon Centaur is – and has been for several years now – not only the most expensive pedal out there but also the most cloned, its name becoming some kind of self-fulfilling prophecy.
For those guitarists interested in getting more "intimate" with this notorious circuit, there are several Klon Clone kits that are not too hard to build and are bound to teach a thing or two about how pedals work.
Besides representing an educational experience, the beauty of DIY kits is that in most cases they are customizable since manufacturers give you several options for components like knobs, cases, and LED lights. In some cases you can pick different components from different builders and maybe order a custom painted enclosure!
These kits are also incredibly affordable compared with fully built units, although the noteworthy savings will be mitigated by the need for soldering gear, not to mention the time investment. More about soldering geat can be found in our Beginners' Guide to Modding and Building Guitar Pedals.
Best Klon Clone Kits
Here's our shortlist of the best Klon Clone Kits!
This is not only the best Klone kit on the market, but also widely considered as one of the best Klones period – but its high quality components come at a price! It's faithful to the original also in size (rather huge), which may be not ideal for some.
A popular and inexpensive DYI take on the 3-knob Klon circuit, the BYOC Silver Pony uses true bypass. It does not have a buffered bypass. There's also a mini version (Li'l Pony) for $5 less. The manufacturer offers several variations on each external component (enclosure, adapter jack, LED lights, knobs).
A Klone kit mostly identical to the original, that claims to use – unlike other kits – the correct true/buffer switch wiring from the original unit, therefore preserving the original circuit in buffered mode, as intended by the original circuit designer. The company's owner is obviously very passionate about the Klon and posted a lot of interesting info about the circuit on the pedal's web page.
General Guitar Gadgets KlonDike
This is a good quality kit that gets you an exact Klon Centaur circuit and includes all the parts and materials you need to build one, including the PCB, which is said to be able to withstand several mods.
A Klon-style drive kit with a separate boost and a toggle switch that lets you choose between the smooth Germanium diode, the more open Silicon one and the gritty and uncompressed LED clipping. Every component's color and style can be personalized.
This DIY-friendly design gets good reviews and -just like the original – sports the usual three knobs and works internally at 18v for increased headroom. It can be purchased in several versions, from PCB only to pre-built with all components.
A slightly more expensive Klon-style kit featuring a circuit with a few modified part numbers/values. It's sold as a full kit or as separate parts so you can customize its look.
---
If you are interested in non-kit pedals of this kind, don't miss our article about the Best Klon Clones!
Relevant Videos
Here are some videos of kits being built from scratch: