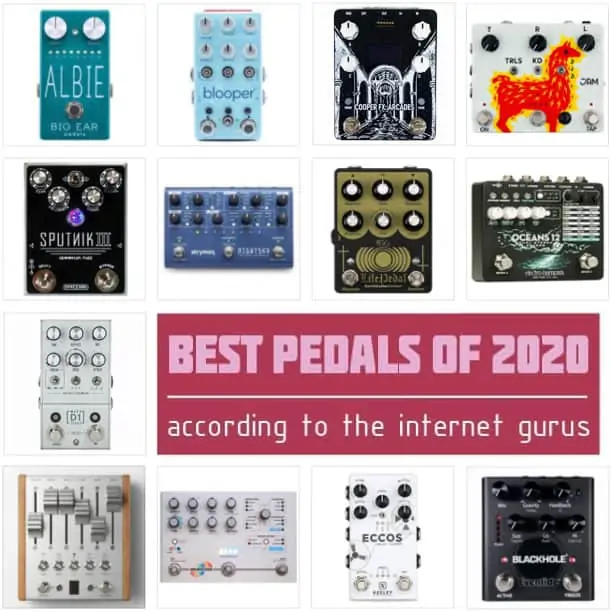 This list was compiled on 01.15.2020
—
Aggregating the Best Guitar Pedals of 2020 Lists
At the beginning of each calendar year, here at Delicious Audio we put on our "aggregator hats" and compile the chart of the best pedals of the previous year according to the best-of lists published by the most popular sites and videographers covering stompboxes. What better way to state with absolute confidence which effects made a splash than listening to the opinions of all the web-xperts?
And if you happen to wonder what our opinion is in this regard… well, we are a neutral spectator that doesn't pick favorites. What we can tell you, though, is which pedals trended on our site in 2020 based on the Google search data.
Without further ado, now, let's dive into the Best Guitar Pedals of 2020!
Aggregated Lists 
Here are the relevant "Best of 2020" lists we found so far – the results will be updated if new lists are published: Demos in the Dark, Dennis Kayzer, Dipswitch Demos, Gear News, Guitar.com, GuitarPedalX, JHS Pedals, The Pedal Zone, Reverb.com, Thomann.com.
How It Works

We only listed pedals released in 2020.
We restricted our selection to guitar pedals (not bass ones) with a small to medium footprint (not board-sized multi-effects).
We didn't consider sites that mentioned less than 5 pedals in their gear selection.
We assigned 1 point to each device for each time they appeared in a list, no matter the position (this is because most lists weren't organized numerically).
2020 Trends: Compact Cases, Stereo and Creativity
We noticed three trends at play in 2020: the first two are linked to each other and consist in a return to the regular compact case format (the size of the classic BOSS pedals), although literally packed with functionality and more and more often with Stereo output. The top 4 pedals in this aggregate list are in Stereo, that must mean something. Mini pedals are still popular but due to their space-related limitations builders can only embed so many knobs and switches in their limited footprint, and they are definitely too small for a Stereo or Dual Output configuration. All clues indicate that the compact case, in 2020, has returned as the dominant format – with a Stereo vengeance!
The second trend we noticed is an increased interest in creative hybrid circuits, i.e. pedals that deliver an ample range of sonic possibilities by combining several effects in one box. This is particularly true for non-gain circuits. If you are interested in exploring this niche, look no further than our List of Creative Pedals.
But enough with words, here's the Best Pedal of 2020!
BEST GUITAR PEDALS OF 2020!
[according to the internet gurus]
1st Place (5 Points)
• Hologram Microcosm
• Walrus Audio Mako D1
Well, this year we had TWO winners!
The Hologram Microcosm, which was #1 in the list of pedals with most searches on our site, is a permanently inspiring creative machine by a small builder in Nashville which combines granular synthesis with a selection of other spacey effects. It was picked by Gear News, GuitarPedalX, Reverb.com, The Pedal Zone and Demos in the Dark.
The Walrus Audio Mako D1 is a compact, Stereo in/out, multi-function delay with five, studio-grade, high-fidelity, custom-tuned modes. Each delay program can be customized with modulation, tone, decay age, and subdivisions, then saved to any of the 9 on-board preset slots or 128 via MIDI. It was hailed as one of the best pedals of 2020 by Guitar.com, Reverb.com, JHS Pedals, Dennis Kayzer and Thomann.
—
3rd Place (4 Points)
• Chase Bliss Preamp MK II
• Keeley Eccos
In 3rd position, we had a combo of great pedals by builders that have been pushing the stompbox format envelope in recent years.  The Chase Bliss Preamp MK II was the first guitar pedal with moving faders ever released, and the fruit of a collaboration with top-notch preamp builder Benson Amps. The Keeley Eccos managed to stuff a (virtual) Stereo tape echo machine in a compact case, with flutter, tap tempo, presets, and a looper function as well just in case…
—
5ft Place (3 Points)
• Big Ear Albie
• Chase Bliss Audio Blooper
• Cooper FX Arcades
• Jam Pedals Delay Llama Xtreme
• Spaceman Sputnik III
• Strymon Nightsky
In 5th position (yes because if you get two winners and two tied in 3rd place, what looks like the 3rd spot becomes the fifth!) we find a wonderful list of edgy stompboxes mostly by boutique players. Enjoy browsing through these very intriguing devices!
—
11th Place (2 Points)
• Chase Bliss/Meris CXM 1978 Reverb
• Chase Bliss/ZVex Fuzz Factory
• Collision Devices Symmetry
• Danelectro Balk Talk
• Dr. Scientist Dusk
• Earthquaker Devices Afterneath V3
• Earthquaker Devices Life Pedal
• Electro-Harmonix Oceans 12
• Eventide Blackhole
• Jackson Audio Golden Boy
• MXR Timmy
• Redbeard Honey Badger
• SolidGoldFx NU-33
• Third Man/Coppersound Triplegraph
• Walrus Audio Julianna
—
26th Position – 1 Point
29 Pedals Euna, Acorn Amps Mind Killer Dual Distortion, Alexander Pedals NeoMatic, Anasound Spinner, Becos CompIQ Twain, Browne Amplification T4, Caline Sundance Special, Catalinbread Epoch Boost, Colorsound Bat Soup Fuzz, Colorsound Bender Distortion, Cornell Legacy Fuzz, Cornerstone Gladio, Crazy Tube Circuit Sidekick, DanDrive Tweedy, Daredevil Hype, Death by Audio Rooms, Demedash Effects Spidola, Demedash T-120 V2, DryBell The Engine, EHX Control Knob, Empress Heavy, Expresso FX Custom Germanium/Silicon Switching FF Fuzz, Expresso FX Custom Germanium/Silicon Switching TB MKII Fuzz, Fairfield Long Life, Fender Downtown , Friedman Smallbox, Hamstead Odissey, Harley Benton DNAfx GiT, Jackson Audio Golden Boy Overdrive, Jackson Audio Mateus Asato, JAM Pedals Monk Tremolo, JHS Bender Fuzz, JHS Pedals PG14, JPTR Super Weirdo, Jupiter FX Real Saturator, Keeley Hydra, Land Deviced Domino, Malekko Goatkeeper, Mattoverse Air Trash, Menatone Compact Vertical King of The Britains Plexi-Drive + Boost, Menatone Compact Vertical Top Boost in a Can / Vox Style Distortion, Merisw Enzo, NativeAudio Ghost Ridge, Neon Egg Planetarium V2, Neural DSP Quad Cortex Digital Amp and Effects Modeller (Not to size ratio!), Nordland Electronics ODR-C Custom Overdrive, OBNE Signal Blender, OBNE Visitor, Old Blood Noise Endeavors Black Fountain , Origin Effects MAGMA57, Pedal Pawn Fuzz, Pettyjohn Yellow Pedal, Pladask Fabrikat, Poly Effects Beebo, Rainger Bar, Red Panda Context V2, Red Witch Fuzz God IV Silicon Fuzz + Octave + Oscillation, Seymour Duncan Phaser, Shnobel Tone Daily Driver, Shotmake Instruments Heroine, Solidglod FX Oblivion, SolidgoldFX Nu-33, Source Audio EQ2, Source Audio Source, Spiral Electric Red, Spiral Electric Secret Chord, Spruce Effects Badlands, TC Electronic Plethora X5, Teisco Distortion, The Brew Fuzz, Third Man Records Triplegraph, Third Man Records/Gamechanger Audio Plasma Coil, Thorpy FX The Bunker, ThorpyFX Field Marshal, Tim Guitarist PIT, Valbruch Kaluna, Valco Bloodbuzz, VS Audio Alchemy Chorus, Wampler Claymore, Wampler Terraform, Wren & Cuff Garbage Face, Zander Junipero.