Updated Sep. 22, 2020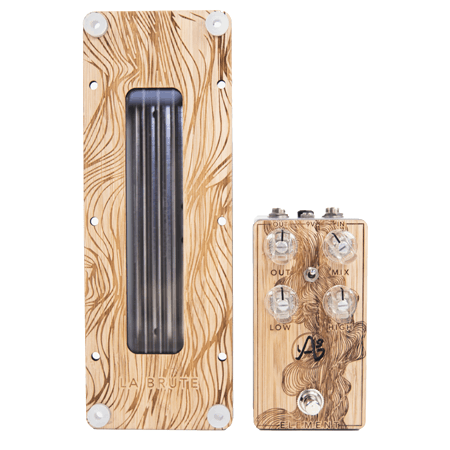 Straight from France comes the Anasounds Element, with Le Bon, La Brute and Le Truand in tow. The Element is an all-analog spring reverb transducer unit, which connects to one of three different real spring reverb tanks to add the finest in reverb to any amps without one or whose 'verb doesn't cut la moutarde.
The Element's main box give you the front end of a Fender Twin Reverb, for a super-clean pedal platform with tons of headroom. Add in one of three tanks with varying decay times, and you have the whole package.
Simply connect the spring tank of your choice to the back of the unit and tuck it away (or don't) and let the waves come to you. Or, leave it out in the open and send shock waves through your amp with a direct hit! Surf's up at the Winter NAMM show, be sure to stop buy and check it out! – Nicholas Kula
Twin Reverb's tone in a pedal
100% analog
Using true springs as old time, then no processor
Active 2 band EQ
Full dry / Full wet mix control
Embedded saturation to get a fuzzy spring
Works with every instruments
3 different sizes of tank
For 3 level of harmonics
The tanks fit under or over the pedalboard
Technical info
Element pedal :
Input impedance = 250 k?
Output impedance = 16 ?
Power supply = 9V DC, 70mA in Reverb to 140mA in spring saturation mode
Dimensions (L*l*h) = 11.8*6.4*5.9 cm
Weight = 290g
Switch = Relay True Bypass
Tanks :
Input impedance = 8?
Output impedance = 2.25 k?
Dimensions (L*l*h) Le Bon = 18*6*4 cm
Dimensions (L*l*h) La Brute = 23.5*8.4*4 cm
Dimensions (L*l*h) Le Truand = 42.5*10.9*4 cm