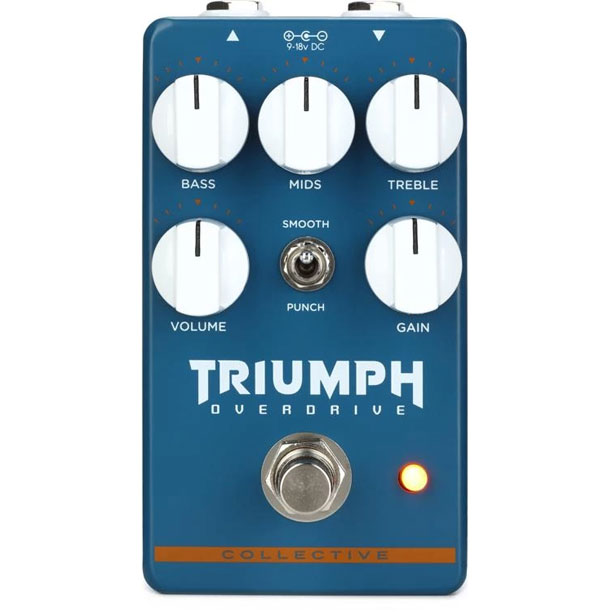 The Wampler Triumph Overdrive is one of two releases in a new $99 line of pedals called "Collective" dropped by one of the most dominant US boutique builders in the dirt box field.
Following the clue from other successful boutique manufacturers like JHS and EQD, who have recently released extremely successful $99 gain pedals, Brian Wampler has channeled his noteworthy experience into a low to medium-gain overdrive whose circuit inspired by two of his favorite drives of all time: the BOSS SD-1 and the Digitech Bad Monkey.
Notwithstanding the affordable price tag, the Triumph doesn't lack the qualities that made the company's fortunes: tone and flexibility, in particular in the 3-way EQ section, a useful feature often missing from boutique pedals in this price range.
The Triumph also offers a 2-Voice toggle that delivers the character of the two previously mentioned pedals
Punch mode, inspired by the Digitech Bad Monkey, is thicker and focused with a mid-range bite and a pronounced low end.
Smooth mode, voiced after the BOSS SD-1, delivers more clarity and a less compressed sound.
Here are the videos of the Wampler Triumph Overdrive, if you want to buy it and be supportive of our site please use our Zzounds affiliate program – at no extra cost to you.
Wampler Triumph Overdrive, Builder's Notes
The Triumph is a versatile overdrive based around two of Brian's all-time favorite overdrives, the Digitech Bad Monkey and the Boss SD-1. In typical Wampler fashion, additional EQ stages have been added that allow a variety of different tones as well as internal circuit changes that add polished glassy overtones.

Wampler's Collective Series pedals are packed with features for players of all levels. Designed for affordability without compromising on the qualities that epitomize Wampler, every Collective Series pedal allows you to easily dial in rich, fat tones ideal for beginners and professionals alike. Welcome to the Collective.