Posted by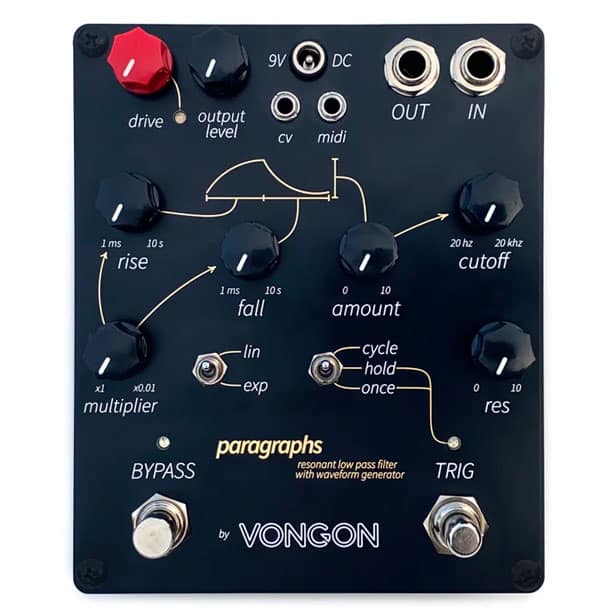 We just stumbled upon the video by Fireghosting about the Vongon Paragraph and were instantly mesmerized by the sound this resonant filter device can produce.
Vongon is a small builder based in Oakland with three pedals in its roster, of which the Paragraph is the more "normal-looking" one. The Paragraph is presented as…
…an analog four-pole resonant low pass filter with an attack, decay (AD) envelope generator [… based on] an AS3320 analog chip — a modern replica of the same component used in analog classics like the Sequential Prophet 5.
Its most intriguing feature, though, is an LFO section that can create a wide range of "auto-wah" fluctuations thanks to a unique set of controls found on the left side of the pedal, and the Trig footswitch, which – rather uniquely and very handily – starts an LFO cycle in different ways depending on the mode selected. This graph should clarify its function: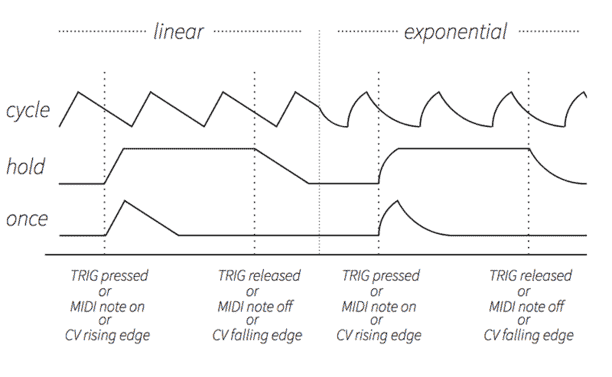 This is also a pedal made to work seamlessly with synths, thanks to its CV and Midi inputs and flexible gain stages, with a Gain knob that can both boost the lower-level signals and drive any instrument to a clipping fuzz.
This seems like an intriguing new pedal for creative minds. Attention, though, this is not an envelope filter, although the graphics may make you believe it's one!
Paragraphs is an analog four-pole resonant low pass filter with an attack, decay (AD) envelope generator designed with focus on simplicity and flexibility.

Low Pass Filter

The heart of the filter circuit is the AS3320 analog chip — a modern replica of the same component used in analog classics like the Sequential Prophet 5, Pro-One mono-synth, Elka Synthex, and the LinnDrum. Cutoff spans the full audio spectrum and resonance starts to self-oscillate at about seventy percent.

Modulation

The envelope generator offers modulations in an uncommonly wide range of frequencies — starting as low as 0.05 hz for slowly evolving 20 second long cycles, and reaching up to (and past) the audio threshold at 300 hz for a wave shaping effect similar to sounds found on west coast style synthesizers ("think Buchla").

Flexible Gain Stages

Paragraphs accepts instrument and line level signals. Dedicated controls for input (drive) and output level make it easy to move between a crystal clear clean tone and and a clipping fuzz. A multi-color LED provides a visual representation of the signal level. Red indicates clipping. Orange flashes indicate the start of overload. Green indicates the presence of signal at or below the nominal level.

CV and MIDI

Inputs for Control Voltage (CV) and midi are available to remotely trigger the envelope generator. This enables your Paragraphs to stay in rhythmic synchronization with external systems like midi sequencers, euroracks, and digital audio workstations.

Specifications

1/4" mono input/output jacks
2.1mm DC Connector
5.7" x 4.7" x 1.5" enclosure dimensions
true bypass
input impedance: 1M?
output impedance: <1k?
power supply: 9 to 9.6 VDC center negative
current draw: 100mA max