Check out also our article about the Best Ambient and Shoebaze Reverb Pedals.
—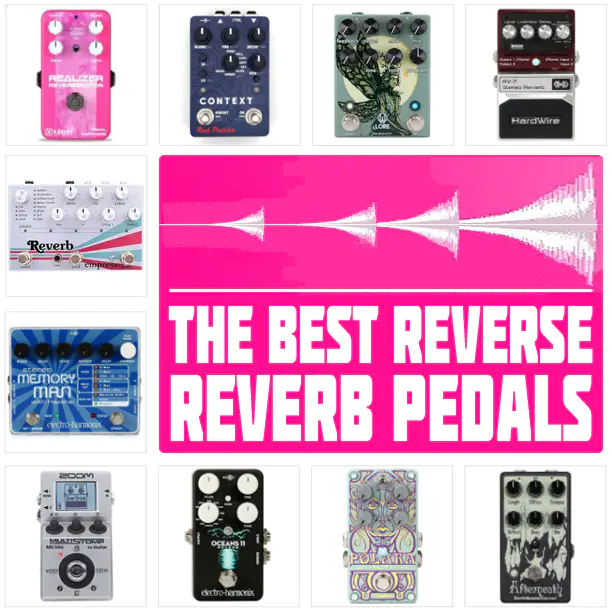 A Guide to the Best Reverse Reverb Pedals
Updated on 06.07.2022.
If you are a guitarist into ambient or shoegaze music you may be very susceptible to the charm of effects based around sound played backwards.
The psychedelic bands of the '60s were the first ones to employ reversed instrumental parts in pop and rock songs ("I'm Only Sleeping" by The Beatles might be the most famous example), and even though some bands like Led Zeppelin and Pink Floyd started experimenting with reversing recorded reverb tracks in the late '60s, we had to wait until the early '80s to hear rock bands using that ghostly effect in a more organic way, as part of their sound.
Reverse Reverb became a signature in My Bloody Valentine's ground-breaking album Loveless, which pretty much spells, to this day, the sonic vocabulary of the musical genre known as Shoegaze, a modern take on psychedelia.
Compiling lists of the best pedals in a specific effect niche is what we do, but creating one for the best reverse reverb pedals had its challenges, because, while there are no pedals that exclusively specialize in doing that, almost all multi-mode pedals have a "reverse reverb" setting.
Therefore, we decided to ask an expert, and also… check out some internet forums focused on that topic!
Here are two lists of pedals that excel at doing the "reverse thing:" one compiled by our friends at Pedal Partners (who specialize in reviewing shoegaze and noise-friendly stompboxes) and the other one featuring other options based on the opinions expressed in some online forum
Here's the list Luca from Pedal Partners sent to us, with his comments about each pedal.
The 5 Best Reverse Reverb Pedals (according to Pedal Partners)
Hover with your mouse or tap on the images below for a more comprehensive description of each pedal. A click or second tap will open a video.
—
5 Other Pedals with Great Reverse Reverb
—
A more comprehensive article about reverb pedals can be found here.