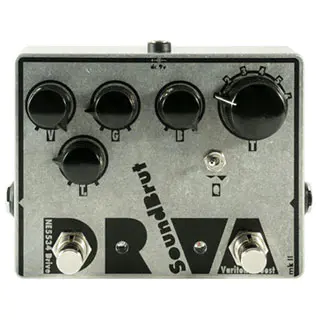 The DRVA, an Overdrive with Boost pedal by Swedish / Turkish manufacturer Soundbrut, was highlighted by Premier Guitar in January 2018 with a flattering review and "Premier Gear" Award.
At Summer NAMM 2018 the company unveiled a "MK.II" of the same circuit with these additions:
Treble-cut: Treble-cut pot is added to DR (drive) side. It allows the pedal to be used in very high-gain settings without harsh trebles.
Simplified Q: Middle Q (EQ depth) option on VA (boost) side is discarded. It is now more straightforward with simply "shallow" or "deep" EQ controls for 6 tone settings of the boost.
Pop-less 6-way switch: Switching between 6 positions of tone caps is now noiseless.
We added the Soundbrut DRVA Mk.II to our list of Best Overdrive Pedals with Boost Under $200.
DRVA is an overdrive and boost in one. DR side is a hard-clipping overdrive, controlled via volume, gain and treble-cut knobs. VA side is a MOSFET boost with a custom tone stack, controlled by a boost knob, 6-way tone selector and 2-way EQ depth selector. Both sides can be operated individually or together in series.

DR is a hard-clipping drive fueled by a NE5534 op-amp. It celebrates the natural structure of your sound while maintaining an airy open tone. Even at high gain settings, this pedal creates well defined and rich tones. The passive treble-cut knob has a familiar feeling and travel; acts almost like a tone knob on your guitar.

VA is a MOSFET boost with a custom tone stack, specifically designed to be used anywhere in your signal chain. Together with a 2-way Q switch acting as a master EQ-depth selector, our custom built and tuned Varitone circuit provides 12 different voicings. In any setting, VA creates a full and well-balanced sound. Even though technically this is not a clean boost, VA respectfully enhances the harmonic content of your guitar. If the boost is kept at unity, the pedal adds subtle character and push. Turn the boost all the way up, it adds weight and loudness. VA provides up to
25dB boost.

Finally, if you turn both sides on, VA feeds into DR creating further gain and tonal structures. This way, DRVA can go from subtle harmonic boost to full-on fuzzy overdrive with 12 different voicings.

Features
– Hard clipping overdrive + MOSFET boost (+25 dB)
– Custom tone circuit incorporating 12 different voicings
– Both drive and boost can be operated independently or in series.
– Fixed signal chain: IN -> VA (boost) -> DR (drive) -> OUT
– True bypass switching
– 119,5 X 94 mm (4,705 X 3,701 inches) enclosure
– Runs on 9V DC power (no battery operation)