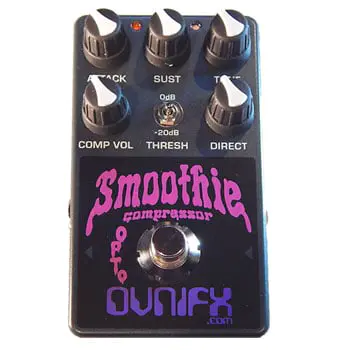 Portland is a hotbed of pedal manufacturers and OVNIFX is certainly not the most well known in the list. Notwithstanding, the company's only creation, called Smoothie Opto Compressor, has built a very good reputation for itself.
This is a transparent, "in-depth" kind of optical reverb with a couple of interesting twists.
Besides conventional controls like Attack and Sustain, the pedal features a Tone knob (unusual for compressors), which only affects the compressed signal. This is a "tilt-shift control" – see this explanation by Brett Kingman if you don't know what that means.
A Direct knob lets you reintroduce some of the uncompressed signal for a more natural sounding parallel compression, and the Compressed Volume can also be controlled separately through its own know.
Finally, a Threshold knob lets you change the level at which the compressor starts operating with 0dp and – 20db being the two options.
This batch uses an optical circuit instead of OTA, and we are really happy with the results!

The new optical ones have essentially the same tone and action as the OTA originals, apart from these details: It uses a charge pump to boost the 9V supply to a higher internal voltage, to reduce the chance of clipping, for you players with high-output basses. With the new Opto models you can get a serious dip-and-swell effect at the maximum setting of the Sustain knob. Lower settings get a more natural and unobtrusive action.

Initially we released two Opto versions: "Tough" and "Suave". The suave ones soften the compressor's reaction to the initial peaks of your notes, which gives a little more transparent-sounding action and reduces any artifacts. The tough ones respond to your note attack more strongly and quickly, which gives the start of the compression more of a funky character. They are otherwise the same. Those versions are now retired, because we have a newer version that incorporates both models! It includes interior DIP switches to toggle between Tough, Suave, and two "in between" positions, for a tremendous range of versatility and fine-tuning to your taste.

The OVNIFX Smoothie compressor is packed with features such as clean blend, tilting EQ, super low noise, very wide frequency range, and an LED to indicate the amount of compression.