Posted by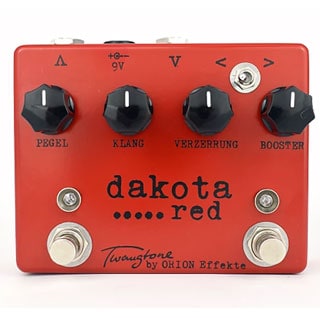 German pedal manufacturers seem to be all the rage these days! Orion Effekte is a one-man boutique operation whose pedals are loved by noteworthy artists like Noveller among others. Sofa Jams just posted this demo of the Dakota Red II, a low gain overdrive and FET-clean boost they designed in collaboration with another German manufacturer called Twangtone that seems to deal with pickup and other guitar part components.
Order of overdrive and booster is changeable by a toggleswitch.
Status-LED with two-stage brightness switch

Controls: Pegel (Volume), Klang (Tone), Verzerrung (Drive), Pre/Post, Booster
Supply voltage: +9V
Current: 5,7 mA (bypass: 2,8 mA)

Dakota Red Classic:

Dimension: 145 x 123 x 57 mm
Weight: 515 g (excl. battery)

Dakota Red II:

Intern switch: "more Gain"
Dimension: 119 x 96 x 50 mm
Weight: 317g (excl. battery)

More info here.
Gear used for demo:
Fender Telecaster or Fame Forum IV
Twangtone – Dakota Red (by Orion FX)
Matthews Effects – Dual Reverb
Vox AC30