Part of the new Pico series of mini pedals, the Electro-Harmonix Pico Pitch Fork is a stylized version of  the popular Pitch Fork family of pitch shifting pedals, but not necessarily the least feature-rich.
It offers 30 pitch shift options and enhanced controls, inheriting the features of the original Pitch Fork while introducing new ones.
With 10 pitch shift intervals (listed below) and three pitch-shifting modes (Up, Down, and Dual), the Pico Pitch Fork provides a variety of effects. The Dual mode pairs specific pitch shift intervals for unique sounds.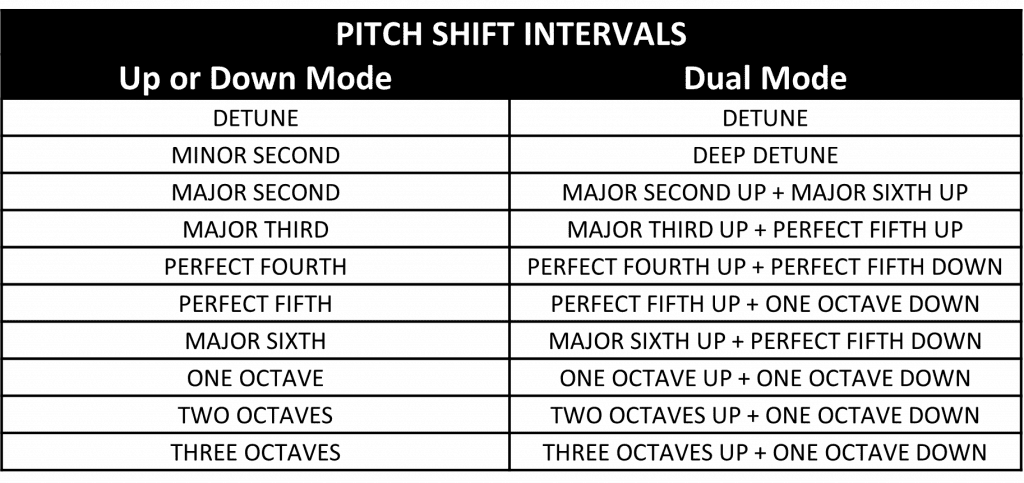 Simple and effective controls include SHIFT for selecting pitch shift intervals, BLEND for wet/dry mix, VOL for output volume, and SWEEP for pitch bend sweep time, including Whammy-style effects. The footswitch operates in Latching or Momentary mode, for versatility of use.
Here's the demo video.
Electro-Harmonix Pico Pitch Fork, Builder's Notes
Offering a total of 30 pitch shift options and expanded controls, the Pico Pitch Fork is the next evolution in pitch shifting from Electro-Harmonix. The original Pitch Fork has garnered praise from all styles of player at every level and the Pico Pitch Fork brings even more features to the celebrated pedal in an impossibly small package.

The Pico Pitch Fork features 10 pitch shift intervals and three modes of pitch-shifting – Up, Down and Dual. Dual mode features specially paired pitch shift intervals to allow for more musical effects.

Controls on the Pico Pitch Fork are simple and effective. SHIFT selects the Pitch Shift interval. BLEND sets the wet/dry blend of the output mix while VOL adjusts the overall output volume. SWEEP controls pitch bend sweep time when toggling between bypass and effect and back to create automatic whammy effects. The Pico Pitch Fork's footswitch can operate in two modes: Latching and Momentary. Latching turns the effect on with one footswitch press and off with another while Momentary turns the effect on only when the footswitch is being held for instant bursts of pitch-shifting pandemonium.

Compact Pico chassis
Famous EHX pitch-shifting power with 30 pitch shift options
Mode button selects between Up, Down, and Dual modes
Latching and Momentary footswitch modes
VOL controls output volume
BLEND adjusts output wet/dry mix
SHIFT selects pitch-shift interval
SWEEP sets pitch bend sweep time for whammy effects
Selectable bypass topologies for flexibility in functionality
Power adapter included