Updated Jul. 31, 2018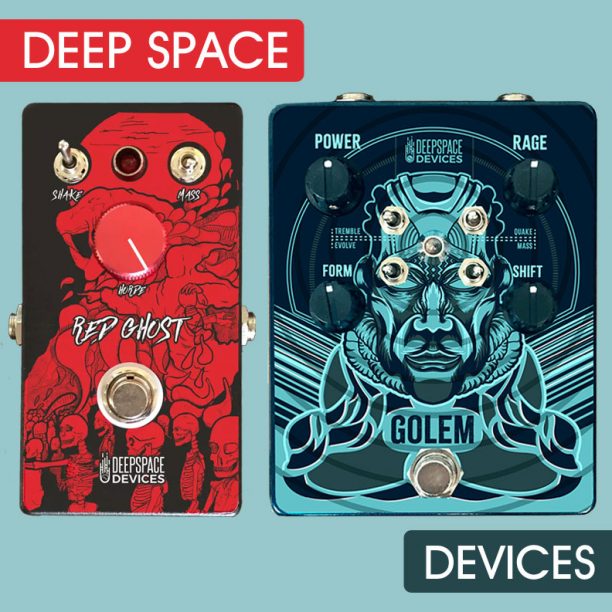 Born less than a year ago (late 2017), Gadsden, Alabama's Deep Space Devices has been able to catch the attention of many pedal lovers by producing effects that can deliver great sounding… sonic mayhem.
The company only has two stompboxes available at this stage – the aptly-titled Red Ghost and Golem – both drive/fuzz circuits that allow for sonic deviation via novel controls. The edgy NYC guitarists who came to our Brooklyn Stompbox Exhibit back in June took notice, voting Deep Space as the Best Emerging Manufacturer of that event.
If you're looking for a unique kind of dirt – a pedal that can give you a jagged, throaty kind of clipping, then the Red Ghost should be on your radar. While it is touted as a distortion, it really ventures more into fuzz territory with unique tones bound tol please even the most particular stoner and experimental rock enthusiasts. There is certainly nothing transparent about this ghost.
The pedal has multiple uncommon elements to its design. For starters, a single knob controls gain and volume. The 'Shake' control selects between different clipping diodes, and 'Mass' acts as a bass or treble boost depending on the position of the switch. It also has an uncommon feature incorporated into its design – if you roll back the volume knob on your guitar it simulates the "dying battery" effect that many players love.
If what you need, instead, is a massive wall of noise, then the Golem will do you good. While pedals with this kind of design can generally get somewhat choppy and smeary, this fuzz/distortion hybrid manages to maintain clarity and articulation – and it features multiple ways to shape your sound.
The controls might have slightly confusing monikers, but there's no confusion about the crushing tones you can dial in. 'Rage' controls gain, 'Power' sets output volume, 'Form' sets tone, and 'Shape' is a very useful high-mid EQ that lets you find the sweet spot. A toggle switch lets you select between Germanium, silicon, or no diodes at all for your preferred style of clipping. The coolest control is the 'Evolve' pot, which lets you switch an internal transistor to achieve a gated distortion effect – blurring the lines between fuzz and distortion.
All of Deep Space Devices' pedals are handmade with a fine attention to detail and quality, and they all feature stellar (pun intended) graphic design and true-bypass switching. – Brandon Stoner