Updated Sep. 10, 2019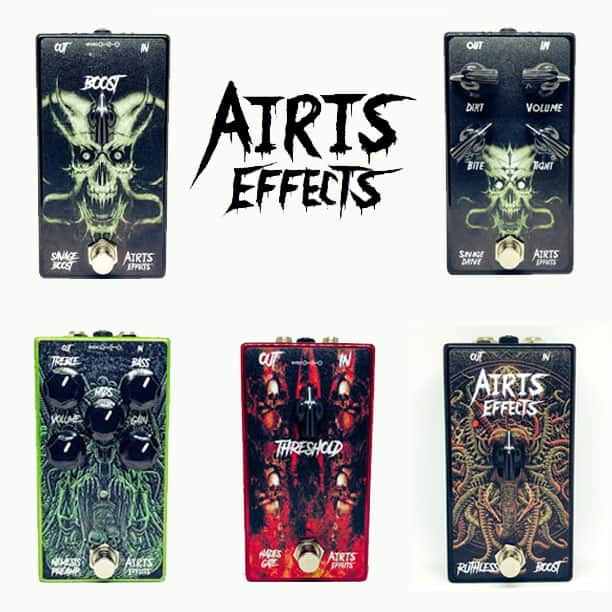 Handbuilt in Ontario, Canada, the pedals of Airis Effects have earned a reputation for their aggressive tone that offers as much versatility as volume. While the company's effects are flexible enough to handle a variety of styles, they are really designed for players that go for a heavier sound. Everything from their circuits to their cover art screams metal, and the delivery does not disappoint.
Their lineup offers some glorious goods on the gain side of things. They've nailed it with a few distortions, some clever clean boost, and a noise gate conceived as a partnership between Airis Effects and US leading boutique pedal designer Robert Keeley.
Airis Effects stands behind what they do. Every pedal comes with a terrific two-year warranty in addition to their stellar build quality. They also have a renowned customer service model, which in this golden age of guitar pedals – with so many other companies to choose from – means something.
AIRIS'S FULL ROSTER OF PEDALS
[click thumbnails for videos]
This pedal is perfectly tweaked for use with downtuned guitars. It provides everything needed for the style – tight, aggressive gain that never gets too indistinct. The Tight knob is a unique type of tone shaper, warming up the high end while keeping the low end from bottoming out. The newest version uses an upgraded power filtering design, as well as hi-fi Burr Brown op-amps and top-mounted I/O jacks, saving precious pedalboard space.
The Nemesis was born out of the idea that everyone should have access to a crystalline high-gain channel – no matter what type of amp they're using. Simple and tuneful, it features all the controls you need in a preamp/overdrive with 3-band EQ and Volume and Gain. Even at the heaviest settings it retains clarity and articulation, just like the best high-gain amplifiers.
Just like the name implies, the Savage is a two stage mid boost that can make your guitar scream with up to 30dB of gain. It features a single gain knob and also sports the advanced power filtering element that Airis has designed. It can help to tighten up your front end or juice your signal going to your input.
Designed in tandem with the masterminds at Keeley Electronics, the Hadesgate is a simple one knob noise gate that is just at home in an effects loop as it is in front of an amp. The single control pot sets the threshold of the gate to keep out the noise in even the most extreme gain situations.
As ruthless as boost pedals come, this is a linear clean boost that offers up to an insane 40dB of gain! Its most devious feature is two internal controls – one that governs the input level and the other a limiter to keep things from getting too crazy. These three symbiotic controls allow you to achieve a range of sounds not available in most boost pedals.
COMING UP: NAO (Nebula Advanced Overdrive)
Their newest pedal and by far their most innovative, the NAO is a new breed of overdrive. It features a fully parametric EQ section, as well as the style of tone control found in Tubescreamer designs with that classic mid boost. The NAO takes it one step further and allows you to select between three different tone settings so it plays well with any setup.
The way that the pedal handles low end is its most unique feature. Called the "Muscle", it gets routed through your effects loop so that you can dial in the bass without it getting cloudy or indistinct. There are two controls over the gain section. Tight controls the feel of the sound, going the spectrum from really tight to a looser, more open feel. Clipping controls the overall amount of gain.