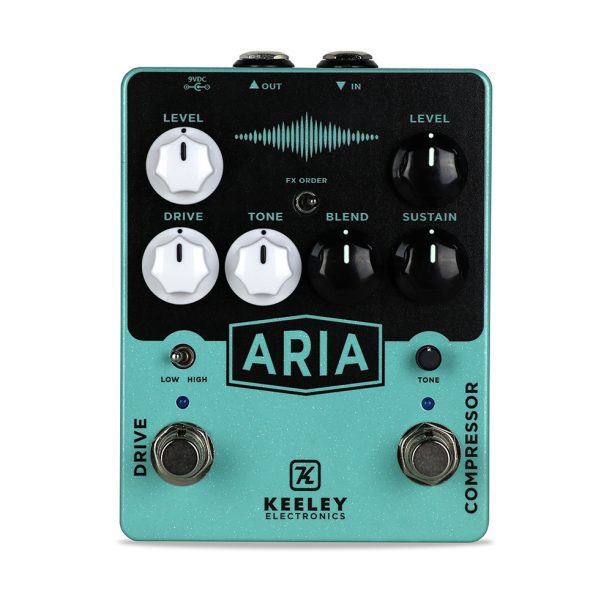 Robert Keeley's new Aria Compressor Drive combines two essential guitar effects in one versatile pedal.
The Area Compressor Drive combines the tone and blend features of Keeley's Compressor Plus pedal with a two-mode overdrive. The order of the compressor and drive can be swapped instantly with a flick of a switch, allowing players to easily change the feel and response of their rig.
Most people run compression before overdrive in order to reduce the potential for idle, static noise. There are times when you want added sustain and therefore might need the compressor after overdrives, because using compressors after overdrives offers players a very warm and rounded, smooth and even tone with tons of sustain. And then you may need to return to the conventional routing, because compression before drives gives you a consistent gain level. Problem solved! Each half of the flexibly routed Keeley Aria Compressor Drive provides tons of volume for boosting and pushing your amp, with each half offering essential tone shaping controls to perfectly sculpt the core of your guitar's sound
The Aria's two-mode overdrive features soft clipping and gives a transparent boost to midrange frequencies. Go from clean and bold tones in Low Mode to focused and sustaining tones in High Mode. The Blend control lets you mix any amount of clean signal for punchy chord work, while the Tone control can be used to brighten the highs.
In addition, the Aria Compressor Drive comes with TRS insert jacks to allow you to divide the pedal into two units and insert individual effects between the two sides.
Learn more about the Aria Compressor Drive by watching the video below.
https://www.youtube.com/watch?v=ThyeJ186Hv4