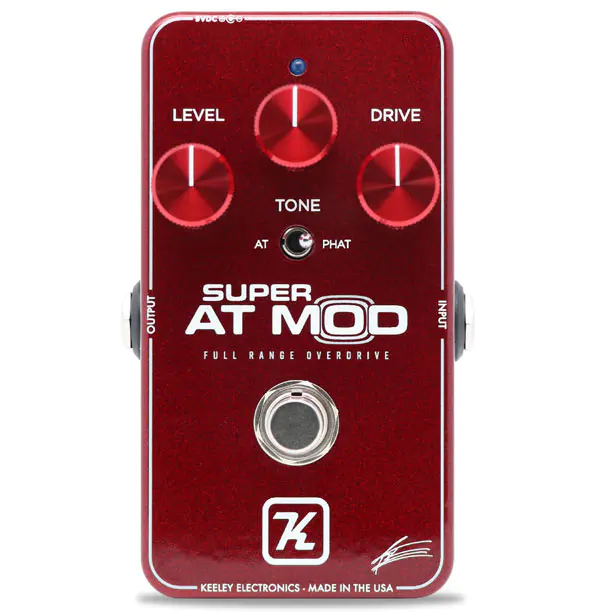 The Keeley Super AT Mod Overdrive is the second pedal released by the Oklahoma-based builders in collaboration with guitarist Andy Timmons, after the very popular stereo delay Halo.
This pedal is a refining of a popular circuit that started as a mod Robert Keeley did to Bluesbreaker pedals to make them sound sweeter and developed into an entirely separate Blues Breaker-inspired pedal called Phat Mod. A pedal Timmons is very fond of.
The AT mod is Timmons' reinterpretation of the Phat Mod and brings two significant modifications:
A new Tone switch that delivers
– left position: the "regular" AT mode, voiced for humbuckers, offers the tone Robert and Tim settled on at the end of the engineering process. It features a tighter EQ and a more transparent character.
– right position: a Phat mode, which is the original circuit found in the Phat mod, with a little extra low end.
The clipping diodes in AT mode use a combination of regular diodes and LEDs to produce asymmetrical tube clipping, which deliver a sound character very close to the one produced by tube amps, for a cleaner and tighter tone.
You can hear the AT Mod in the videos below – andif you want to buy it and be supportive of our blog Please buy it through our Sweetwater or zZounds affiliate programs – at no extra cost.]
Keeley Super AT Mod Overdrive, Builder's Notes
Engineering the perfect overdrive… again! (And this time we brought a friend.)
There is something special about a Keeley Modded Blues Driver. There's something even more remarkable about Andy Timmons' tone. Since his exposure to this Keeley modded stompbox early on, it has been virtually glued to Andy's board. Coincidence? We think not. So, what happens when Andy and Robert use the familiarity of the Super Phat Mod platform to dethrone a classic? Enter the Super AT Mod.

Andy Timmons and his beautiful guitar playing have been known to bring people to tears, literally! After working with Andy for a couple of years we decided to focus his ears on the Keeley Super Phat Mod. There are two significant modifications to the tone of the Super AT Mod Overdrive that will be very apparent to players. The new Timmons mod accentuates both the tone control and the gain creation – making this circuit truly sound and respond like a tube amplifier in a stompbox.

New Tone Switch

There is a new circuit design for the Tone Switch in the Super AT Mod Overdrive. The AT-mode is voiced for humbuckers. The new AT-mode features lower mid-bass frequencies so your humbuckers sound tighter and more transparent. Like Andy says, "I just wanna play melodies all day"; the Super AT Mod Overdrive inspires you to play guitar!

If you have single coils and want a little more power behind your sound, the original Keeley PHAT-mode is still available with the Tone Switch flipped to the right.

Asymmetrical Tube Clipping

The most dramatic change to the distortion characteristics of the pedal is with the clipping diodes. The new Super AT Mod Overdrive features a return to the RK's original clipping style, a 20 year old modification first performed in the Keeley Blues Driver Phat Mod. For this AT edition we create asymmetrical clipping by using a combination of regular diodes and LEDs. Light emitting diodes (LEDs) clip or distort the signal at a higher voltage than do regular diodes. Asymmetry enhances the tone by giving your ears something a bit more interesting than a basic square wave to listen to. Tube biasing, output transformers, and the balance in a push-pull output section, can cause natural asymmetrical clipping. The Super AT Mod Overdrive pedal exhibits the characteristics of a pushed tube amp. Andy's chord work and harmonies are cleaner and tighter now, without reducing any gain.
How it works
Click the image for a bigger version of it.