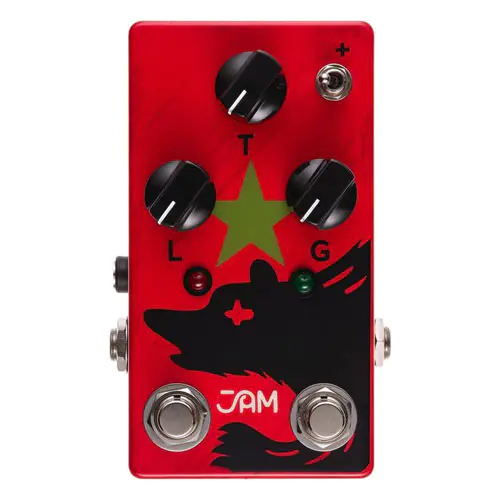 The Jam Pedals Red Muck MkII keeps it classic with the three-knob layout but combines the most beloved aspects of the Green Russian and the Ram's Head designs into one pedal.
You get the clarity and articulation of the Ram's Head along with the heavy bass and smoothness of the Russian in one compact pedal.
MK2 also adds a boost with its own footswitch and an additional voicing, with a 2-way toggle-switch delivering symmetrical (same as mk.1) and asymmetrical clipping.
Here are the videos of this Muff-style fuzz, which is included in our article about the best Big Muffs and its clones and evolutions.
JAM Pedals Red Muck MK2 Fuzz, Builder's Notes
The Red Muck mk.2 puts on a few pounds, grows a new set of sharp teeth and is out to seduce even the most demanding Muff connoisseurs!

Inspired by the '71 "triangle" and the later "Red Army / Civil War" Muffs, the Red Muck boasts a wider gamut of saturation and varied degrees of compression and sustain on tap.

The Boost footswitch engages a dedicated section of the circuit, separately tuned to hit the front end of the Red Muck and generate even fatter walls of Fuzz-Distortion or with the Gain set lower, function as a High-Gain-Stage footswitch.

The 2-way toggle-switch selects between symmetrical (exactly like the Red Muck mk.1) and asymmetrical "+" clipping modes! Be it early lyrical sustaining Muff tones or massive Stoner-Fuzz- Distortion wall of sound you are after, the Bear's got your back!

ARTISTS USING THE RED MUCK:

David Hidalgo, Cesar Rosas, Graham Coxon, Jim Campilongo, Greg Koch, Dweezil Zappa, Lee Ranaldo, Adrian Legg, Guy Pratt, Robert Randolph, Julien Kasper, Sean Ono Lennon, Red Fang

ARTISTS QUOTES:

"Pure, unadulterated evil !! Splatty distortion and gobs of sustain. It's going straight on the touring pedal board." Sean Ono Lennon

"…the Red Muck has POWER !!!" Greg Koch

"Red Muck with minimum gain thickens like a fat humbucker pushing a small tube amp a little too hard!" Adrian Legg

"I warmly recommend the Red Muck" gilmourish.com