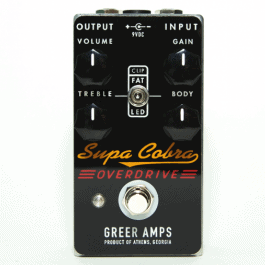 At Summer NAMM 2018 Greer introduced a new medium gain overdrive called the Supa Cobra. This is a rather flexible pedal with three clipping modes (FAT, LED, and Open), and controls for Treble and Body.
Here's a sonic peak at how it sounds:
The Greer Amps Supa Cobra is a versatile and touch sensitive overdrive.  The Supa Cobra offers the user incredible flexibility in a small form factor, with natural, amp like breakup and sensitivity.  The 3 position toggle allows for flexibility in the clipping style and texture.  When in FAT mode, the circuit clips in a fat, chewy way.  When in LED mode, the clipping becomes stiffer (think of that famous British amp sound that starts with an M that is known for some crunchy textures), with more crunch–this setting is most noticeable at higher gain settings.  When the clip switch is in the center position, the natural drive of the opamp is on display.  The body control is a unique control to the Supa Cobra.  When set low, the pedal remains cleaner, with less boom on the low notes.  When the body control is increased, both gain and low-end presence are increased.

The Supa Cobra runs off of a standard, negative center pin 9 volt power supply.  Greer Amps' lifetime warranty covers manufacturing defects and component failure to the original owner, it does not cover misuse or abuse.
Chewy medium gain overdrive to awesome crunchy grind!

3 way clipping switch–FAT, LED, and Open modes!

Body control expands low end content while pushing gain!

True Bypass!

Uses standard neg. center, 2.1mm power supply.

Built with top quality components

Lifetime Warranty to the original owner!

Pedals are currently built to order, and will ship within 1-2 weeks of your order and payment