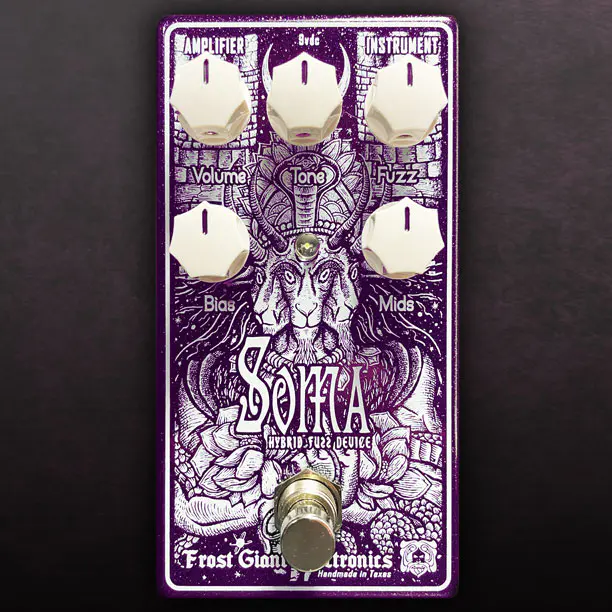 The Frost Giant Soma V2 is the new, updated, and improved version of this fuzz pedal made for Doom and Metal aficionados, a variant of the company's popular Massif Fuzz.
Within a smaller case, now in the classic compact size, this new circuit packs more volume and more bass for earth-shattering tones through the interaction of the Tone and Body knobs, while offering also an entirely new control, the Bias knob, which affects the saturation and changes the structure of the fuzz delivering a wider palette of tones, ranging from sputtery to singing.
Check out the videos of it!
There's also this video by Mike Hermans that, for some reason, we can't embed here.
Frost Giant Electronics Soma V2, Builder's Notes
This model combines the best of Purple and Black with more lows and volume plus the added Bias control to manipulate the fuzz saturation and structure of Soma. We're excited for this new update and now being more pedalboard friendly we hope you can squeeze one on your board soon!

Soma is a tuned version of our Massif Fuzz with custom tonestack similar of the Doom/Sludge Metal giant The Tall Font Russian but with new adjustments for 2022.

The Massif's circuit was adjusted with more gain and cut but still retains the open mid response to keep you above the mix. An added bonus is we added a the Bias on the in outside you decide you want a more sputtery hellacious fuzz, full clockwise is the stock setting for maximum sustain and gain.

Controls:

Volume – Adjusts the level output

Tone – The feel of your standard BMP tone control

Body – Shifts the low/mid low range in conjunction with the Tone knob

Fuzz – Adjusts the Fuzz level

Bias – Controls the fuzz saturation and structure