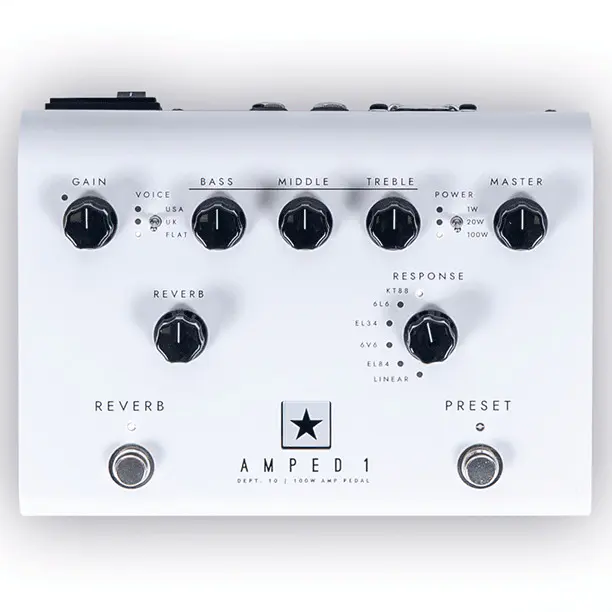 The Blackstar AMPED 1 is the latest release and perhaps most ambitious release by the British company within their new Dept 10 line. Rather than just a gain pedal, like the other three pedals in the series, the AMPED 1 is a full-fledged 100w guitar amplifier with tons of extra features you won't find in a regular amp.
This stompbox looks like a game changer in the growing realm of guitar amps in a pedal format, offering possibilities we haven't seen in other similar devices.
For example, AMPED 1 offers 3x amp voices (USA, UK, or flat for external preamp/modellers), 5x power valve simulations or linear mode, and 2 channels (manual and preset) and 3 Cab simulation types. Also, a Power Reduction switch allows you to "downgrade" the wattage to 20w or 1w, allowing the player to get the perfect balance of power and response in any environment from studio to bedroom to stage.
The valve simulation is, in particular, an unforeseen feature, emulating the response of popular valves for amps such as the KT88, 6 L6, EL34, 6V6 and EL 84.
It also has a Reverb with separate footswitch. There's only one control for it on the pedal, setting the amount, but its parameters can be modified in depth through the Architect editing software.

The back and side panels' pictures above reveal plenty of routing and connectivity options, with separate output for 8 and 16 OHM speakers, effects loop, 3 Cab Emulations, Line/Headphones out, XLR D.I. out and Midi/USB in.
Check out the first videos of the Blackstar AMPED 1 below. Visitors of the upcoming Brooklyn Stompbox Exhibit will be able to try this pedal on the Blackstar board. We added it to our article about the Best Power Amp Pedals.
[Wanna order this baby and be supportive? Buy it through our Sweetwater affiliate program – at no extra cost.]
Blackstar AMPED, Builder's Notes
100W Amp in a Compact Pedal
The Dept. 10 AMPED 1 is a professional 100 Watt guitar amp in a compact pedal. It turns any pedalboard, modeller, or multi-effector into a performance ready amp and ensures you can take your sound with you anywhere.

High Headroom Power Amp Design
The power amplifier's unique, high-headroom design does not compromise on output even at 16 Ohms. Get maximum power and optimum tone with any cabinet set-up at 8 or 16 Ohms. Blackstar's patented Response control offers distinctly different and authentic power valve responses and guitar amp dynamics.

Speaker Simulator and Direct Outputs
Fine-tune your cabinet, mic, and room simulations with our Cab Rig technology and output via XLR or stereo jack. Or, connect via USB for effortlessly simple recording to your DAW without the need for an interface.

• 100W pedalboard amp (1.28kg)
• 5x power valve simulations or linear mode
• 3x voices: USA, UK, or flat for external preamp/modellers
• 2x channels: manual and preset

OTHER FEATURES

Reverb With Freeze Effect
The reverb type, time and tone can be customised using Blackstar's Architect deep-editing software and saved to the Dept. 10 AMPED 1 in place of the default reverb. When the Reverb is active, holding the Reverb footswitch will activate the 'Freeze' effect.

Universal Voltage
Dept 10. AMPED 1 is universal voltage so can be used anywhere in the world from 100V to 240V ~ 50/60Hz. Just stick it in your gigbag and hop on that plane.

Footswitchable Preset
Create and save your favourite settings to the amped by holding down the "preset' footswitch. Disengaging the preset will return the settings to the physical state of the controls, giving you two channels at your feet.

Authentic Valve Amp Feel
The unique power amplifier design uses current feedback which mimics a valve amplifiers interaction with a speaker cabinet. This very high headroom design delivers the thump and presence of a valve amp with 100W power, into any speaker cabinet at 8 or 16 Ohms.