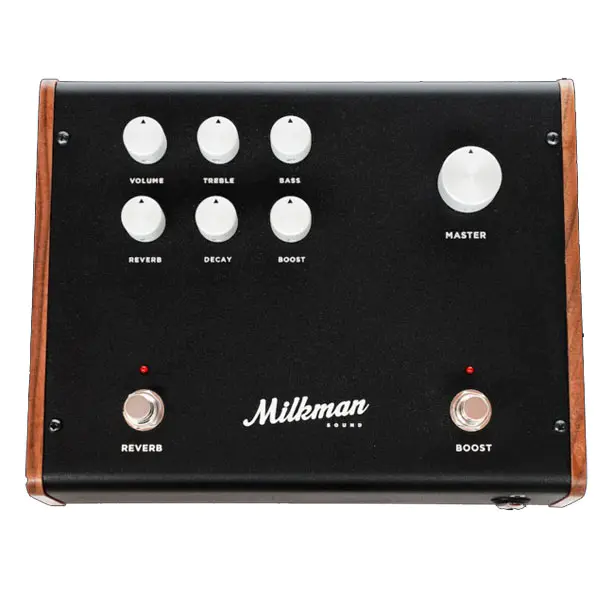 Milkman Sound, an amp company run by a San Francisco-based steel guitar player, has been building a solid reputation for their sturdy quality pedals, notwithstanding the fact that they don't exactly follow the established trend of ever-shrinking footprints – yes his babies are quite large, their components have room to breathe!
Those who passed on Milkman's milky white The Amp because they thought a 50w power output wasn't enough to satisfy their ideal specs may want to take a look at the company's new The Amp 100, which gives you twice as much power, in a black case. Yes, because those who want more power for themselves tend to like that color (both in music and politics!)
But power is not all The Amp 100 delivers: it also features a FET boost circuit and dual control reverb with controls for Decay and Blend. Just like its little brother, it boasts a studio quality line output with cabinet simulation, pedal level output, headphone output and universal power.
Check out the video of the Milkman The Amp 100, below, we added it to our article about the best power amp pedals.
Milkman The Amp 100, Builder's Notes

The Amp 100 is the new high power addition to The Amp model line that set the standard for pedalboard sized tube/Class D hybrid guitar amps in 2018. Maximum wattage has been increased to 100w and an integrated FET boost circuit and dual control reverb has been added. A black finish with Walnut end panels and silver knobs completes the new look.

In the Amp 100, an internal FET boost starts at unity gain and can work as an 'always on' EQ sweetener, subtly boosting midrange frequencies, or as a powerful drive pushing the 12AX7 tube into full saturation. The boost sits between the triodes of the preamp tube. Placing the boost internally preserves interaction between the instrument input and the first tube stage, and also increases headroom so that The Amp 100 can still work well with external drive and boost pedals.

The Amp 100 has a dual control reverb system, adding a control for decay time as well as reverb blend. The decay control ranges from a short room like reverb sound to a full tank spring splash with classic drip.

The Amp 100 shares all of the great features of The Amp : a studio quality line output with cabinet simulation, pedal level output, headphone output and universal power.

WATTAGE

50W 16ohm Output

100W 8ohm Output

200W 4ohm Output

EFFECTS

Reverb and internal 15dB FET boost