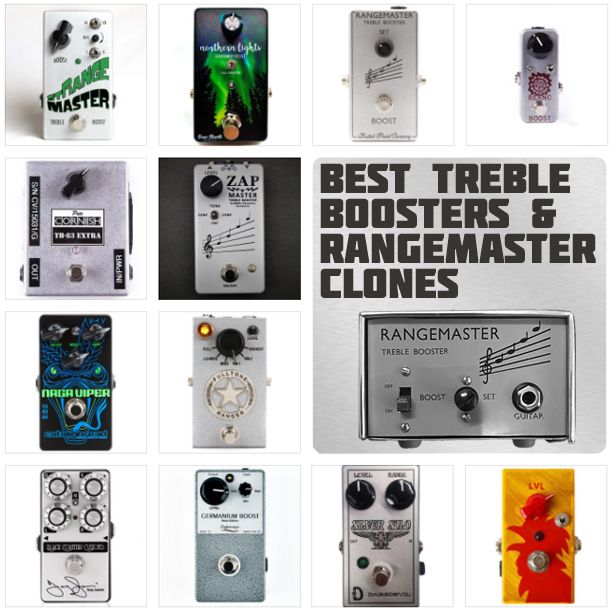 This article is exclusively focused on the best treble booster pedals & Rangemaster clones on the market. The coverage of other boost stompboxes can be found in the boost pedals category. 
TABLE OF CONTENTS (click to jump)
This list was updated on January 25th, 2023
A Brief History of the Dallas Rangemaster, the First Treble Booster
The Rangemaster came about due to necessity. In the 1960s, British guitarists such as Jimmy Page and Eric Clapton enjoyed pushing their large Marshall and Vox amps into overdrive. But the more you turned these amps up, the more the mid-low frequencies dominated, creating muddiness and loss of definition. The Dallas Rangemaster solved all this by providing a treble boost – "opening up" the amp, while also pushing it into a gnarlier state of overdrive through the use of a simple Germanium transistor-based circuit.
Brian May, Billy Gibbons, Rory Gallagher, and Tony Iommi are just a few of the guitarists who swore by their treble booster.
The Original Dallas Rangemaster
The original unit was made to stand on top of the amplifier and featured a simple circuit consisting of a Mullard Germanium transistor, four capacitors, three carbon comp resistors, a potentiometer, and a battery. Nerds can find the circuit's schematics here.
Although it was initially adopted by a number of players the Rangemaster lived in obscurity for more than a decade after the '80s. To many modern players, it may seem unwieldy or harsh sounding. But for the guitarists who are in pursuit of something that feels "real"- something with touch sensitivity, dynamic range, organic saturation, harmonic color – the Rangemaster does all that in spades. This is certainly one of the reasons why it witnessed a resurgence in the late '90s.
The Best Treble Booster Pedals & Rangemaster Clones: Our Categories
Such a reputation (and price tag) has prompted many modern effects builders to attempt to replicate or reinterpret the Rangemaster's tone, with results going from point-to-point clones to wild evolutions.
We decided to organize this list of the treble booster & Rangemaster clones in these three categories.
Best One-Knob Rangemaster Clones
Best Rangemaster Evolutions With Expanded Range
Best Rangemaster Evolutions With Expanded Gain
—
Best One-Knob Rangemaster Clones
The original Rangemaster had only one knob, just like these authentic recreations that apply some improvements to the original circuits without adding anything new to it.
Fetching for almost $400, this is the one-knob+footswitch follow up to the original TB-83, an "always-on, set and forget" treble-booster box with no controls whatsoever. Famously designed by the legendary UK builder for Queen's Brian May, it was made specifically for the normal channel found in older Vox amplifiers, but it sounds great on most low gain amps.
A company devoted entirely to building treble boosters, BSM uses hand-selected NOS germanium transistors in all their pedals. They make several editions of boosters, including low, medium, and high gain versions, tone-controllable boosters, and custom-built models.
Possibly the fastest-selling-out pedal in the history of pedals (it sold out in 7 minutes during the live broadcasting of this video). Based on a rare NOS Black Glass OC71 germanium transistor sourced from a private stash in the UK, this Dallas Rangemaster clone was built in a limited run of 700 units. It's an accurate reproduction of the original, with the added benefit of a bypass footswitch and a two-way toggle that gives you a separate boosted-frequency option delivering a thicker, more modern tone.
An authentic hand-wired remake of the original "amp-top" treble booster. A no-frills replica made the same way the originals were, down to the iconic vintage look.
An affordable yet authentic, hand-built, one-knob Rangemaster clone from a very reputable Russian builder employing matched 1t308v Soviet vintage NOS transistor.
—
—
Best Rangemaster Evolutions With Expanded Range
These pedals either stay very true to the original Dallas Rangemaster circuit, or add some modern refinements or extra tweaking options.
Based on the Rangemaster, uses NOS germanium transistors. Three boost modes: original (treble), mid-range, and low – the latter 2 for more full range boosts. Provides a warm breakup somewhere between a clean boost and an overdrive, excels at pushing into tube amps. Available both in mini and compact cases. Mods available upon request.
A high-quality, carefully designed JFET boost pedal that adds a clean tube-like character to your tone and features three EQ modes. The "N'" one is a variation of a treblebooster, a little more gentle than the original but also more musical. The other two modes deliver a more rounded sound ("F") and a nearly flat response ("X").
A handmade germanium Rangemaster, with 6 modes: Full range, low mids, mids, Rangemaster 1 circuit, Rangemaster 2 circuit, and highest (presence) boost. Adjustable bias trimmer and top-mounted jacks.
Tony Iommi's signature Treble Booster made by amp company Laney, who also built his favorite LA100BL tube amp. Classic Rangemaster circuitry along with a drive control for adding more grit and Hi and Lo tone controls for tailoring the boost to your liking.
Using a Germanium AC-128 transistor, the Moonshot provides beautifully textured boosting capabilities. Treble/Mid control allows the player to use it as a standard treble boost or introduce more low frequencies into the signal.
A high-end, limited-edition, point-to-point Rangemaster built on a tagboard, with a fancy leather enclosed box. Uses rare military-spec CV7003 germanium transistors. Comes with a 3-way switch for treble, mid, and bass boost focus.
This pedal also comes in amp-top and Replica series modes, a part-for-part remake of the original Dallas Rangemaster. Chris from R2R carefully sources NOS components and hand wires everything. This unit features a mod with a 6-position Range control (the right knob) to shift the boosted frequency. 
An elegant booster using a germanium transistor. Comes with a 3-way switch to select treble boost, mid boost, and full-range boost. Plays well in front of True North's Tweed Drive or other amp-like drive pedals.
Hand-built on a turret board, and available to be customized with NOS transistors and enclosure and knobs of your choice. Comes with a 7-way rotary switch that allows for full control over what frequency area you want to boost.
A refined compact Rangemaster using high-quality components and NOS germanium transistors. A 3-way input capacitor switch allows the user to choose between the original capacitor value or 2 other options which let more low frequencies into the signal.
Seeker Electric Effects Rangemaster (Mass St. Music, no video)
A beautiful hand-wired, point-to-point construction using the same OC42 germanium transistor as the original Dallas Rangemaster. A switch changes the original treble boost input capacitor to another that provides a thicker tone.
A germanium booster with added tone shaping abilities. Range control goes from just treble to full spectrum, and passive treble and bass controls allow taming of harsh frequencies or muddiness when pushing an amp.
A Silicon version of the vintage treble booster circuit from the '60s with Range knob to widen the spectrum of boosted frequenices. It offers a tighter low end, sharper bite, and more output than the usual germanium Rangemaster clones. It accentuates dynamics and texture while increasing volume, pushing your tone through the mix when you need that extra cut.
—
Best Treble Boosters With Expanded Gain
These pedals are capable of treble boost but they deviate from the classic Rangemaster circuit and provide unique takes on a boost pedal, or are combined with other circuits for complimentary gain stacking.
Based on the original Rangemaster but with modern versatility thanks to two extra knobs: Range and Gain. Range allows the user to go from classic treble boost to a full-range boost. Gain increases the amount of saturation in the signal to achieve a fuzzier boost.
A dual-channel gain pedal that places a Plexi-style drive circuit after a silicon 15db treble boost, with separate footswitches. Each has an independent EQ section: simple Tone control on the Plexi side and parametric EQ (Range + Freq) on the Boost, which is clean when the Range knob is down to zero. A 3-way Low Cut Filter (off in zero position) tames the low end.
A boutique "foundation preamp" that covers classic British 1960s non-master volume amp tones. The left side is a versatile preamp with Marshall and Vox style voicings, drive, and tone-shaping options. The right side is a Rangemaster that boosts into the amp side or follows it. Range controls the frequency area you'd like to boost.
Based on a treble booster mod used by Steve Ray Vaughan, this combo boost/overdrive is a two-knob, treble booster-inspired device built to interact with your guitar and amp, cleaning up nicely at low guitar output. The right knob is a three-way rotary switch that produces glassy and bite on the Hi setting, tube-like warmth in the Mid setting and punchy growl in the Lo one.
Much more than just a treble booster, the QBoost comes with a footswitchable frequency boost that ranges from 35hz to 6khz. It also includes a preamp section with a switchable modern/vintage voicing and gain circuit that can go from light saturation to dying-amp fuzz.
An all-analog multi-mode boost pedal that delivers four flavors of boost, each inspired by legendary circuits: "rm" mode is a silicon reinterpretation of the '60s classic treble booster, using a unique setup with 2 low gain silicon transistors; "ep" is a colored JFET preamp–gain stage voiced after the preamp circuit of the Echoplex; "ma" is based on the clean and "transparent" tone of the MXR Micro Amp; "mf" is based on the ultra-transparent, high input impedance MOSFET boost of the ZVex Super Hard On pedal, famous for its pristine highs. Each mode can then be tweaked via two pushbuttons, one for a "fatter" sound, and one that changes the circuit's voltage from 9v to 18v, for extra headroom.
Combines two boost circuits and a master volume in one enclosure. Can function as a treble booster, a full range booster, or an overdrive with internal clipping via the master volume knob. Can provide 40db of boost into the front of an amp.
A high-end Silicon transistor evolution of the classic Rangemaster-style treblebooster circuit that can overdrive thanks to the Poke knob (gain) triggered by the Poke footswitch. The 2-way Bulk toggle provides a "fatter": tone while the Horn toggle (3-way) offers two extra voices, one more overdriven and one bordering on distortion
Combines two legendary circuits in one box: Fuzz Face and Rangemaster. The effect order can be switched and each one can be engaged independently. The Rangemaster side can boost mid and low frequencies in addition to treble.
From beloved pickup maker Throbak, a boutique Rangemaster with extra tweaking options. Switchable Germanium and higher-gain silicon transistors, switchable treble or mid-range boost, and a unique bias control set this booster apart.
This Seattle builder has a trilogy of Rangemaster-inspired pedals, and the Snap is the most affordable by far. They all feature a gain knob. The sharp treble booster of the original Pop pedal is replaced with a smoother one, while adding a third center knob to reintroduce bass. Fans of Brian May–type riffs may find something for them here.
Inspired by Brian May, who ran an always-on Rangemaster into a Vox AC30. The Galileo replicates this signal chain, functioning as a "Boosted Amp-in-a-Box" pedal. Very responsive to guitar dynamics, with a wide gain range from sparkly Vox cleans to blistering fuzzy leads.
A Silicon limited edition version of the Naga Viper, the Skewer is based on the classic Hornsby-Skewes treble booster used by Ritchie Blackmore of Deep Purple. The Skewer uses the same control scheme as the Viper, but has more bite.
---
Videos about Treble Boosters & Rangemaster Clones
Why Everyone Needs a Treble Booster (That Pedal Show)
Treble Boosters – the Most Underrated Effects (Pete Thorn)
Tremendous Treble Boosters (That Pedal Show)
This Is Why You Need a Treble Booster (Leon Todd)
Treble Booster Shootout (Matthias Stockert)