Posted by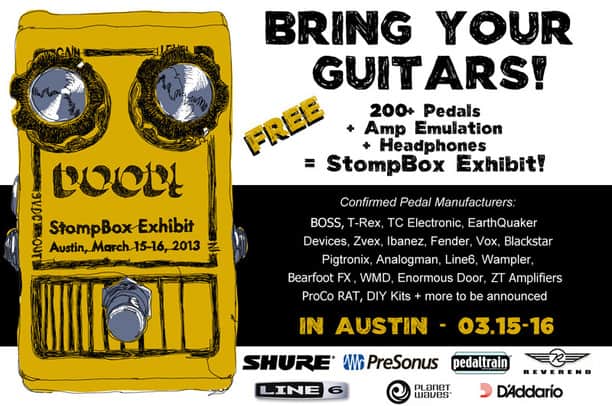 Like us on Facebook! – Signup for Email Newsletter – Pics from the NYC 2012 Exhibit
—
Austin, TX – This upcoming March The Deli and Delicious Audio will be presenting the first edition of The Austin StompBox Exhibit, a free, interactive, in-the-headphones display of guitar effect pedals that will coincide with the busiest days of the big music festival hosted by the Texan city that week: Friday and Saturday March 15 and 16. Never heard of our exhibit? We organized one in Brooklyn in October during the CMJ festival – check out the pictures here (click on the first one for more).
WHEN: March 15-16 from 12 to 8pm.
WHERE: The event will be hosted at the Austin Clayworks Gallery on 1209 E 6th St, entry will be free for all (there might be lines though, the space is rather small).
Headphones will be provided once again by Shure, amp emulation by Line 6, pedal boards by Pedaltrain, headphone preamps by PreSonus, Guitar cables by Planet Waves, guitars by Reverend. Guitar accessory Oknob will also participate to the exhibit.
Musicians are invited to bring their own guitars and plug them in directly into the pedalboards. They will be able to test the pedals and hear the results directly in the headphones, which will be plugged into an amp emulation unit.
Please signup HERE to get updates about our events, or like us on Facebook!
This is the list of the participating stompbox manufacturers at this point:
T-Rex
TC Electronic
BOSS
Zvex
Vox
Fender
Ibanez
Pigtronix
RAT – ProCo
Analogman
EarthQuaker Devices
Line6
Bearfoot Pedals
Wampler
WMD
Enormous Door
Station Audio
DIY Kits
ZT Amplifiers
Fairfield Circuitry
The Deli Delicious Audio Staff