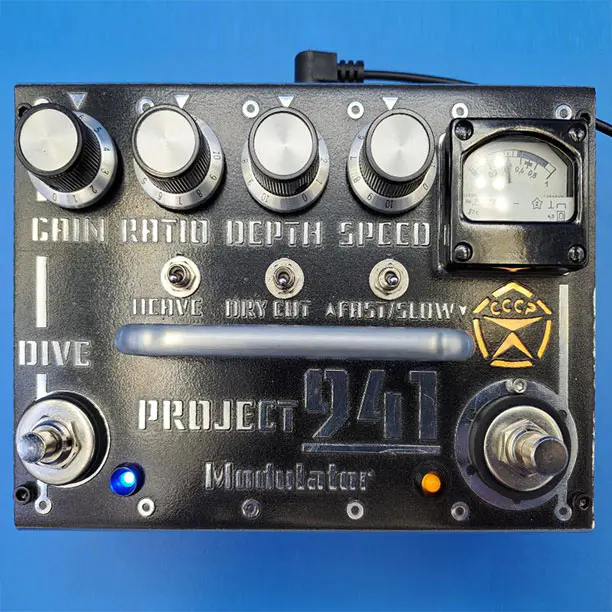 The Wrought Iron Effects Project 941 Modulator is the third pedal from the company's Cold War series, which sports names linked to vintage submarines and looks reminiscent of the technology embedded in them. This is an incandescent bulb-driven 4-stage phase shifting vibrato with parallel dry signal – i.e. a Uni-Vibe, using 11 NOS Soviet silicon transistors.
Named after the largest class of submarine ever built: the Soviet Project 941, the Project 941 was built to be an "always-on" kind of pedal, therefore a subtler-than-usual modulation effect that can add movement and character to your tone without overpowering it.
Designer and company owner Ed Chaw made a particular effort to get this pedal to deliver a proper vibrato effect (obtained by removing the dry signal), thanks to a maximum speed faster than your average bulb-based uni-vibe pedal.
A peculiar choice is also represented by the Gain knob placed at the end of the signal, which can saturate the effected sound – rather than the tone going into the effect.
The other three knobs deal with the expected controls found on most uni-vibe pedals (Speed, Depth and Ratio – aka mix), while the three toggle switches offer Slow/Fast speed, Dry off for vibrato sound, and a Heave switch that adds a low-frequency feedback path for a deeper effect with enhanced "throb.".
The second footswitch, called Dive, adds another feedback path more focused in the mid-range, delivering over-the-top pulsating sounds.
We added the Project 941 to our article about the best Uni-Vibe clones and variants.
Wrought Iron Effects Project 941 Modulator, Builder's Notes
Project 941 Modulator: Bulb-driven Vibe
Acid-etched "Sea-Worn" finish

Each pedal in the Cold War series is hand built, one at a time, in the Wrought Iron Shop by me, Ed Chew. The graphics are acid-etched, then powdercoated, sanded and polished in an 8 step process, then finally waxed with ceramic wax and buffed to a shine. Because of variations in etching and sanding, each one will be unique in appearance with some light "weathering" around the edges. Each one carries some history with it, in its components and name.

The Project 941 Modulator, the 3rd release in the Cold War Series, is an incandescent bulb-driven Vibe with roots in an old tube driven Hammond organ vibrato circuit and the original Uni-Vibe. It is a 4 stage, phase shifting vibrato, with parallel dry signal for that classic "chorus" Vibe sound. It uses 11 NOS Soviet transistors and features a Soviet panel meter to indicate rate.

The 941 is named after the largest class of submarine ever built: the Soviet Project 941, or Akula (Shark) Class, ballistic missile submarine built in the 70s and 80s.

My goal in designing this pedal had 5 main parts:
1. Design a Vibe that could be used as an "always-on" modulation, giving movement and dimension to your guitar tone without overpowering it. I wanted the majority of the controls to sit in that area, but still have the ability to do out front Vibe sounds, too.

2. Create a signal path with NOS Soviet silicon transistors

3. Design a unique analog LFO to drive the bulb that could go both really slow, AND fast enough to create a legit vibrato sound (about 7 hz). This is where I feel that a lot of Vibes suffer- they don't quite go fast enough to get into good Vibrato territory. I also wanted the LFO to drive a vintage Soviet panel meter to indicate the rate.

4. Design a unique final amplification stage, so that the pedal could be used clean, but also included its own post-vibe overdrive sound, using the same NOS Soviet transistors and that sounded great

5. Create feedback paths that could be switched on to give the Vibe different modes, for the times when you really want it to stand out, or even to sound crazy

Because this was the biggest design challenge I had ever undertaken, I thought it needed to be named after a Cold War project that was a huge undertaking for the engineers of the time. Thus I chose the Project 941 submarine. Like the 2 previous entries in the Cold War series, I tried to make the aesthetic reminiscent of a control panel in the submarine (or rocket, as in the N-1).

I believe I have met each of the goals I set out to achieve in the Project 941 Modulator. Whether you want an always-on, subtle chorus/vibrato/vibe sound, or an over the top pulsating modulation, or to switch between both with the stomp of a switch, the 941 can do it. I hope you find that it works well for you in your rig!

-Ed

KNOBS:

Gain: controls the gain of the final transistor stage. All the way CCW is unity gain, crank it up to add some chewy overdrive.

Ratio: This unique control lets you determine how much of the wet signal you want to add into the mix of wet and dry. If you want a deep pulse, but want to tame it down so it is not over-powering, this control lets you do that.

Depth: this controls how bright the bulb flashes, which dictates how much phasing/pulsing/vibrato there is.

Rate: how fast the LFO cycles.

TOGGLES

Heave: adds in a low frequency feedback path to make the effect deeper and gives a little more "throb".

Dry Cut: move this switch up if you want just the wet signal. This is analogous to the "vibrato" mode of a traditional Uni-Vibe.

Fast/Slow: select from 2 different speed ranges for the Rate Control

Footswitch:
Dive: this switch adds in another feedback path, this one more focused in the mid range. Used together with the Heave control, you can get really over-the-top pulsating sounds.
Features
Always-on rate indicator (diffused yellow LED and panel meter)
Laser cut illuminated Soviet Quality mark "Active" indicator
Acid etched and polished raised graphics.
Custom aluminum plate enclosure, folded in the Wrought Iron shop
DeMont premium smooth-click activation switch
Taiway "Dive" switch and toggles
Switchcraft audio Jacks
100,000 hr rated incandescent bulb
USA made circuit board with through-hole components
Alpha potentiometers
AlcoSwitch dial knobs
Stamped serial number in bottom plate