Posted by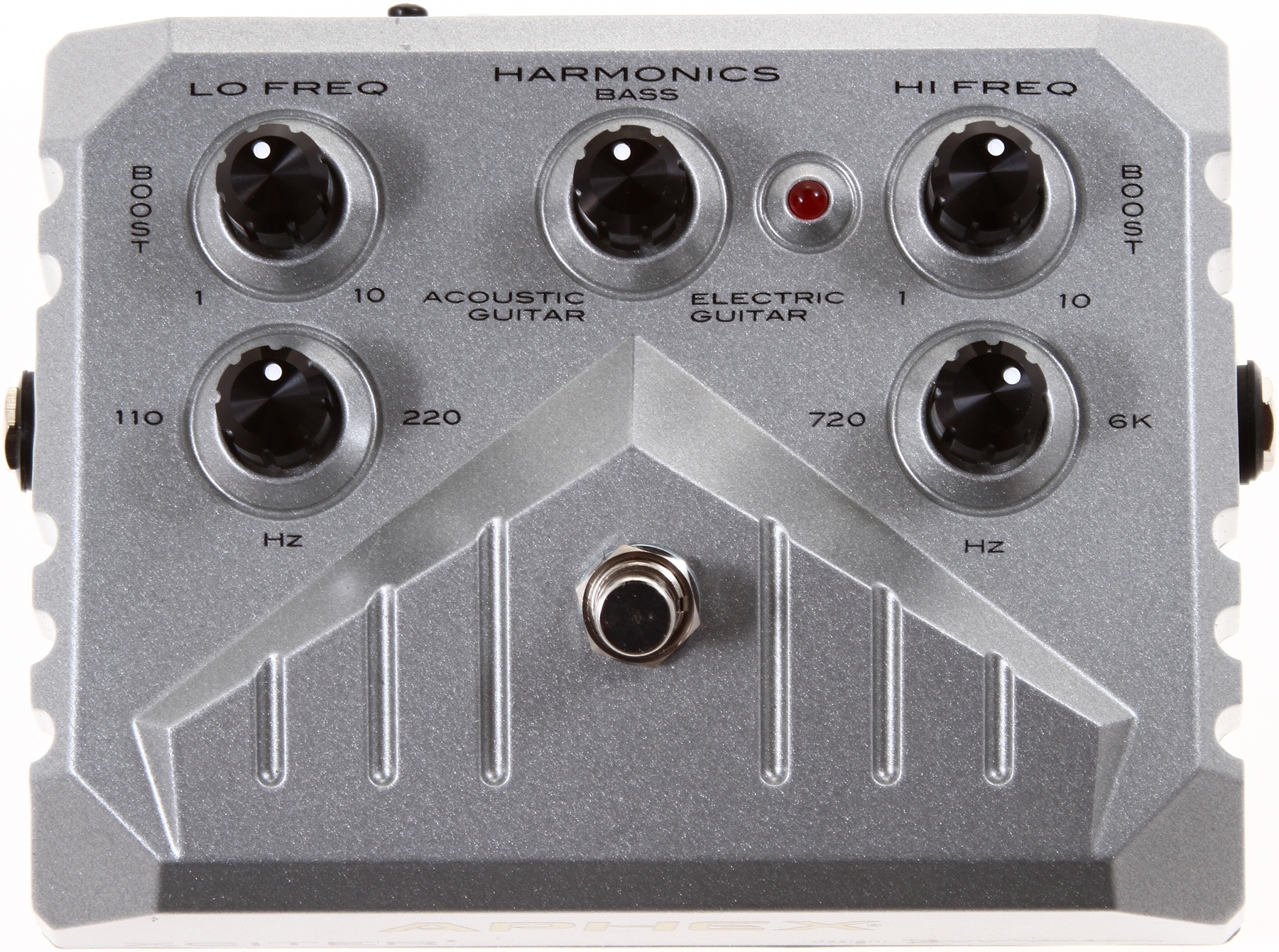 Aphex has done a recent redesign of their guitar pedals, streamlining their Bass, Acoustic, and Guitar Xciter pedals into one unit – now simply called the Xciter (MSRP $249). Designed to add clarity and tightness to your guitar sound without altering the tone, the Xciter acts as more of an enhancement than an effect.
The pedal uses technology from the Aural Exciter rack unit, which has been around for over 30 years, and can be found in countless recording studios today. The Aural Exciter is used to add punch, presence, and intelligibility to audio signals: it works by adding even order harmonics to a filtered split of the original signal, and mixing that back into the unprocessed signal. A Big Bottom circuit was later added to the unit, which increased the perceived loudness of bass frequencies without significantly boosting the overall level of the audio.
The Xciter pedal combines over three decades of refinements to its namesake into one package that features a few easy-to-use controls. A harmonics control switches between suggested settings for bass, guitar, and acoustic guitar – tailoring the behavior of the pedal to the type of instrument you're playing. The Lo Freq knob lets you select a low pass filter frequency from 80 to 250Hz. This filter feeds a side chain signal that is compressed, then summed back into the original signal. You control how much of the processed audio is mixed back in with the Boost knob, making your lows sound louder and more defined. The Hi Freq knob is a high pass filter (700Hz to 7kHz) that adds even harmonics rather than compressing the signal. As with the Lo Freq controls, only the filtered side chain signal is processed, and Boost knob determines how much of it is mixed with the unprocessed signal. While it may sound confusing, using the pedal is much easier than understanding how it works.
To get an idea of what this box actually sounds like, check out this killer Russian demo video of the Aural Exciter – skip to 1:33 to hear the audio comparisons! You might also want to check out Punch Factory from Aphex, a transparent optical compressor pedal with ratio control. –Mike Bauer