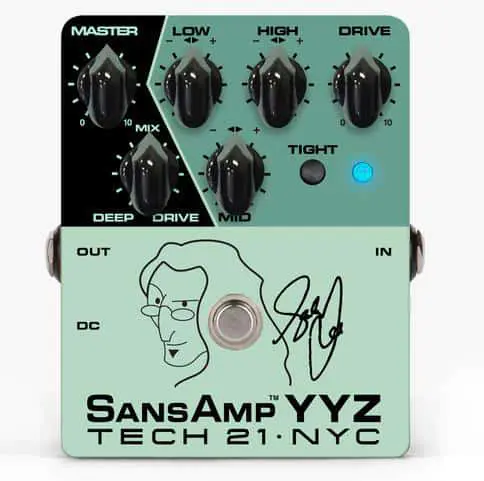 The Tech 21 SansAmp YYZ is a two channel (clean – overdriven) stompbox voiced after bassist Geddy Lee's rackmount.
All analog SansAmp technology enables you to record directly and enhance previously recorded tracks. For live performances, the YYZ can drive a power amp and speakers, augment your existing amplifier set-up, or run directly into the mixer of a PA system.
• Mix control to blend the ratio of high-end studio clean and dirty bass tube amp tones.
• Tight button to add definition to your notes in cleaner settings and make distorted tones snappier.
• Drive adjusts the overall amount of gain and overdrive, similar to when the output section of a tube amp is being pushed.
• Active 3-band EQ.
• Master volume.
• Operable with 9V alkaline battery (not included) or optional DC power supply (Tech 21 model #DC2, #DC4 or #DC9).