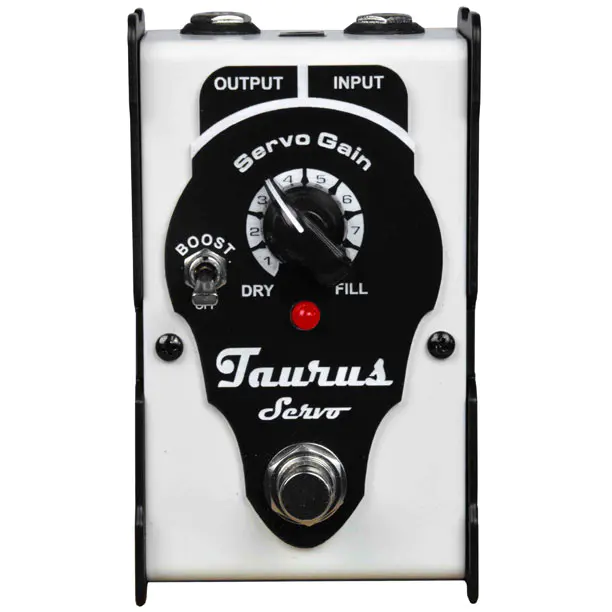 Hand-made in Poland, the Taurus Pedals Servo is a pedal that's slowly gaining a growing fanbase among the more "tone-oriented" guitarists.
Although it could be described as a boost pedal, the Servo is certainly NOT a clean type of boost, quite the opposite. It's designed to sweeten your tone with extra harmonic content that complements and enriches the sound.
The boost part of it can be disabled through a toggle switch without losing the device's effect.
It can also be used to record guitar direct to your audio interface.
This is a device whose value can only be understood by listening to it – you can do so in the demos below.
Taurus Pedals Servo, Builder's Notes
GUITAR SERVO – perfect control over the sound.

Taurus SERVO-ENHANCER is a professional tool to help you achieve great guitar sound. The device makes the sound very vivid and saturated while it does not interfere with the original guitar sound. The feeling is that you are playing on much higher quality instrument then it originally is.

The SERVO enriches the sound of instrument, adding the qualities which make playing more enjoyable and even more importantly, more inspiring. Additionally, it makes the guitar very well set in the overall band mix.

The SERVO complements these features which while playing, guitarists need the most to achieve the full comfort .By using SERVO you will notice how rich in the harmonics sound of your instrument is and how significantly they complement the sound. Suddenly you will discover the tones which were absent in the sound of your guitar and now they begin to flow freely, becoming so friendly and inspirational.

The SERVO is designed to work with any type of traditional and digital profiling amplifier and preamp. It also performs very well while recording guitar directly to the computer. The unit is extremely easy to use – it is recommended to connect it directly to the guitar as a first component of the entire effects chain.

We encourage you to try out our cube ! Hopefully it will become the main tool in the arsenal of your effects, creating your own original guitar sound.

SERVO GAIN – adjustment.
BOOST – increases output signal level and makes sound slightly "crunchy".
TRUE BYPASS – in OFF mode your instrument's original signal goes through, bypasses all electronic components.
POWER SUPPLY VOLTAGE RANGE 9-15V: any power supply with power rating between 9 and 15V can be used
POLARITY AUTO DETECTION: allows using either centre-positive or negative polarity on power supply
DC ASSISTANT: protection against signal loss. If disconnected or the voltage is lower then 6V the effect is automatically switched to the "bypass" mode
Current consumption: 40mA (max)
DIMENSIONS: (H x W x D) 50 x 66 x 110mm
WEIGHT: 0,2kg