Updated Oct. 1, 2013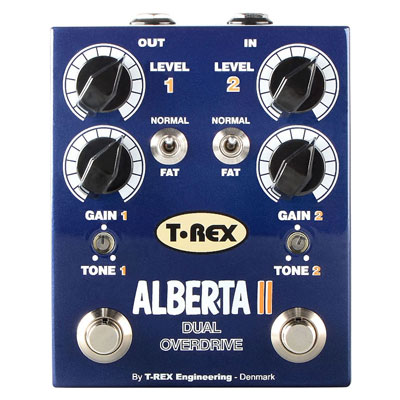 The first version of the T-Rex Alberta Overdrive was one of the post popular distortions released by the Danish manufacturer, probably because of its versatility, which allowed guitarists to easily forge tones that worked both for creamy rhythm sounds and cutting ones for solos.
This double use of the pedal inspired T-Rex to come up with a new version (called Alberta II) that allows these two identities to coexist in one package. While channel 1 is entirely faithful to the original pedal's tone, channel 2 has a slightly more open and punchy sound, for a little more pick attack and push, but with the same voice of channel 1.
The stompbox's sonic footprint and physical size is the same, giving the user a three step rocket of creamy, responsive overdrive without sacrificing pedalboard real estate. With two channels of overdrive, you can now get the clean sound from your amp, a nice "on-the-edge" overdrive from one channel and a punchy rock sound from the other channel, or go from a medium boost to a fat, clean-ish boost to push the front end of your amp.
But that's not it. For those who need a low-end boost for those "stratty" moments, the Alberta II lets you flip a switch for an even thicker tone on either channel, expanding the range and usage even further, making this pedal a flexible tool that works for many musical styles.

Check out the demo below, or come to try it in person at The Deli's Brooklyn Stompbos Exhibit 2013 at Main Drag Music in on October 19-20!