Posted by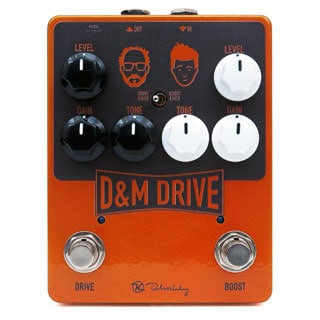 New Livingroom Gear demo of the Keeley Electronics D&M Drive, a rather straightforward but great sounding dual gain Boost + Overdrive.
From the manufacturer's website:
Not only does each side of the pedal provide rewarding guitar tones, they can be used to stack together for an out-of-world experience.  The pro switching system developed for the D&M Drive allows you to select which side of the pedal comes first and in fact you can configure the pedal to work in a pro-switching system like the G2 for independent pedal use!

The D&M Drive delivers insane amounts of headroom and a distinct midrange voice can be dialed in to give you the lead voicing you dream of.  Dialed in to give you the punch and clarity of a horn yet subtle and smooth in saturation to give you warm overdrive and tons of sustain.  Expect it to work well with any amp or rig. More info here.
Gear used for this demo:
Guitar: Fano PX6
Amp: Tone King 20th Anniversary Imperial
Cables: Toaster Cables
Patch cables: Mulder Audio