Updated Jul. 8, 2021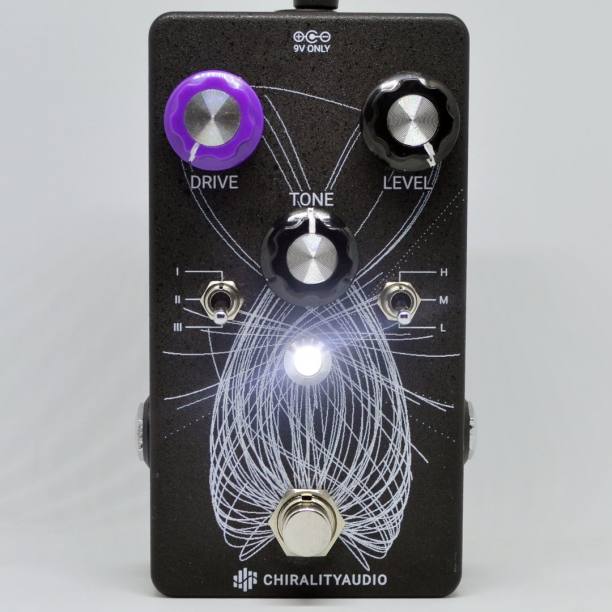 A dirt box by Italo-Irish pedal company ChiralityAudio, Splinter is a hand-made 3-knob (Drive/Level/Tone) Tube Screamer 808-inspired overdrive with a host of tweaking options, mostly affecting the lower end.
The tweaking happens through two 3-way toggle switches. The one on the right delivers three different amounts of low end, with the L setting being the most radical. At high gain settings, more bass means not only a bassier tone but also more fuzzy harmonics.
The toggle on the left offers three separate clipping diode modes, for a broad overdrive palette, from subtle harmonics enhancement to more complex textures.
The pedal works internally at 18v for increased headroom, which grants a better transient response and can handle line level signals – which is why this is a pedal that works well with synths.
Here are some videos of the ChiralityAudio Splinter.
Gain and diodes selection offer a broad overdrive palette, from subtle harmonics enhancement to more complex textures. At low gains, the Splinter Overdrive works like a clean boost, giving your instrument more body and sustain without altering its features. At higher gains rhythms get crunchy and leads cut through the mix.
Bandwidth control to match the frequency range of your instrument and/or what you're playing.
Increased headroom provides a better transient response and can handle line level signals. The higher headroom gives you more control over your playing, making the pedal very responsive to your touch, with either low or high impedance pickups/drivers.
Standard 9V power supply: the increased headroom is generated internally, so you don't have to carry around that extra 18V power supply. It's 9V everywhere on your pedalboard!
True bypass switching implemented with a dedicated PCB: no hand wired footswitch!
Carefully designed PCB: we take quite some time to design the guts of our products. Functional partitioning and layout recommendations from IC vendors might not look cool on Instagram, but they are a guarantee of better signal integrity and optimal working conditions for all components.
High grade electronic components (high precision, low thermal drift) sourced from authorized dealers only – Burr Brown OpAmps, Neutrik jacks, NKK switches, WIMA capacitors.
RoHS compliant (lead free) PCB and components. It makes no difference to your sound, but it's one of our ways of respecting the Planet.
Hand crafted with painstaking care in Europe.

Choose your flavor

Splinter Overdrive comes in two flavors: matte black painting and natural brushed aluminum (Custom Shop).

They are identical from an electronic point of view: same PCB, same high quality components, identical high definition sound.

The black version features high quality graphic print.

The silver version is the result of a long manual process where we brush the aluminum enclosure, then we transfer the graphic through etching. Because of the very manual nature of the process, no two Splinter will look the same. Splinter Custom Shop is only manufactured on demand. You can order your Splinter Custom Shop here.