Posted by
– A Smorgasbord of Pedals! –

****September 10-11 from 12pm to 7pm at Main Drag Music****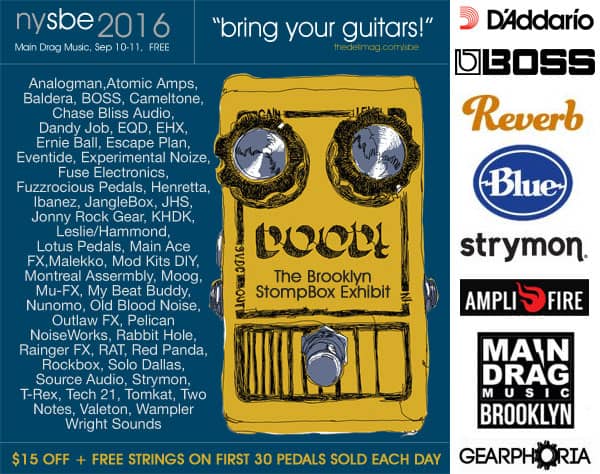 Add to Calendar10-09-2016 12:00:0011-09-2016 19:00:0015Stompbox Exhibit at Main Drag200+ Guitar Pedals – bring your guitar!Main Drag Music, WilliamsburgThe DeliOrganizer e-mailhttps://www.facebook.com/stompboxexpotrueDD/MM/YYYY
DIRECTIONS TO MAIN DRAG MUSIC HERE
READ THE DELI/GEARPHORIA ISSUE LINED TO THIS EVENT!
---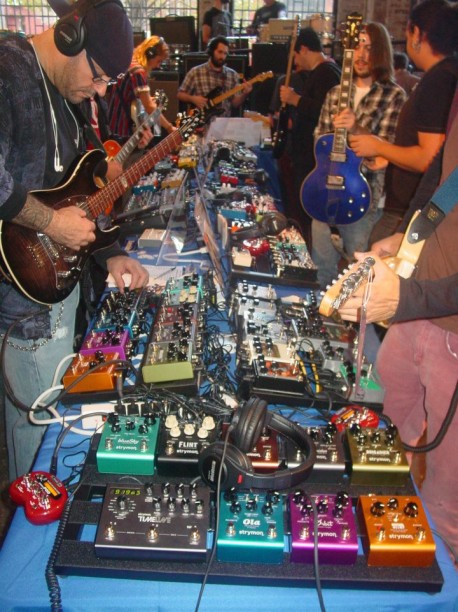 The Deli, Delicious Audio, and Main Drag Music are proud to announce the 6th edition of The NYC StompBox Exhibit, a free for all interactive display of guitar effect pedals  – pictures from last year's awesome show are here.
Hosted at Williamsburg's premier guitar store Main Drag Music, located in the heart of Brooklyn's most musical neighborhood, this year's exhibit is scheduled for September Saturday 10 and Sunday 11 (from noon to 8pm on Saturday, and from noon to 7pm on Sunday).
You can find updated information about this show on the Stompbox Exhibit's Facebook page at facebook.com/stompboxexpo.
CURRENT LIST OF PARTICIPATING MANUFACTURERS:

Sponsors:
Atomic Amps/Studio Devil's Amplifire (Amp Emulation)
Blue Mic (Headphones)
BOSS (cables)
D'Addario (strings)
Reverb.com (Web Store)
Strymon (Power Units)
Pedal Manufacturers:
Adventure Audio
Analogman
Atomic Amps (Amplifire)
Baldera
BOSS
Cameltone
Chase Bliss Audio
Dandy Job
Death By Audio
Earthquaker Devices
EHX
Ernie Ball
Escape Plan
Eventide
Experimental Noize
F-Pedals
Fuse Electronics
Fuzzrocious Pedals
Henretta
Ibanez
JangleBox
JHS
Jonny Rock Gear
Leslie/Hammond
Lotus Pedals
Main Ace FX
Malekko
Mod Kits DIY
Montreal Assermbly
Moog
Mu-FX
My Beat Buddy
Nunomo
Old Blood Noise
Outlaw
Pelican NoiseWorks
Rabbit Hole
Rainger FX
RAT/ProCo
Red Panda Lab
Reverb
Rockbox
SoloDallas
Source Audio
Strymon
T-Rex
Tech 21
Tomkat
Two Notes
Valeton
Wampler
Wright Sounds