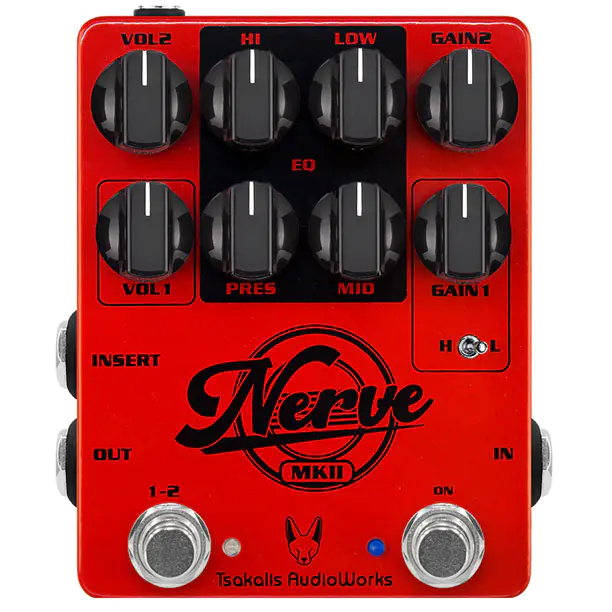 Both thick and dynamic, the Tsakalis Nerve MkII is a dual high-gain, silicon-based distortion pedal for guitarists with a heavy tone, featuring two matched JFET stages that deliver an American-style distortion.
A toggle switch selects between High and Low gain settings for Channel 1 for in-song dynamic shifts, while a dedicated insert jack (fx loop) for channel 2 opens up unforeseen routing options.
Low, Mid, High and Presence controls allow for deep tone sculpting.
Tsakalis Nerve MkII, Builder's Notes
Dual High Gain Distortion

Nerve MKII is a high Gain-Distortion pedal specially made for aggressive styles. Two channels with independent Gain and Volume controls sharing a 4 control standard American style eq. Perfect matched jfet stages, gives an unbelievable result, touching the color of the American style amps.

Quick response and touch sensitive, makes this pedal unique for extreme styles. Full and juicy tone perfect for both Rhythm and Solos.

A dedicated toggle switch for Channel 1, selecting between High and Low gain settings, and a dedicated insert jack (fx loop) for channel 2 makes the pedal ideal for almost any use..

Specs

• Handmade in Athens, Greece
• True Bypass
• 2 Channels of silicon Distortion
• 1 Volume & 1 Gain control for each channel
• Low, Mid, High & Presence controls for eq
• Toggle switch for High – Low gain settings only for CH1
• Insert jack (FX Loop) for CH2
• 1 Heavy Duty Foot-switch for selecting channel 1 (green) / channel 2 (red)
• 1 Heavy Duty Foot-switch for enable / disable the pedal
• Power supply : 9V Boss-type DC adapter (center -), 12V ok
• Max power consumption : 6mA @ 9V DC
• Heavy duty & light weight aluminum box
• Dimensions : 106mm(Width) x 122mm(Length) x 52mm(Height)
• T.A.W. Limited Life-Time warranty