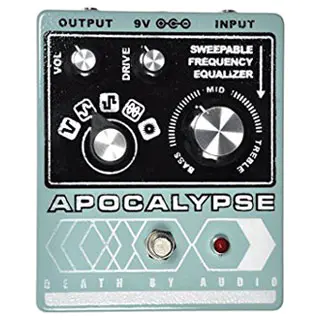 For years Death By Audio have built their reputation on providing some of the gnarliest heavy distortion pedals. It's a distinct sound you can hear on albums by bands like A Place to Bury Strangers, Sisters or Grooms, who are part of the Brooklyn-based collective/venue/pedal company. After numerous variations, DBA has created a sort of "best of" pedal, the Apocalypse, which combines 5 of their unique fuzz circuits into a single stompbox.
It's rare to find an all-analog pedal that possesses versatility bordering on what you'd expect from a digital pedal. The 5 circuits cover everything sonically, from mid-scooped thrash metal, to sustained big muff-influenced tones, to squelching blown speaker overdrive (think Neil Young at his heaviest). To be sure, every setting retains a few similar characteristics – big, broken, aggressive. Its massive sounds are perfect for filling up space in a single guitar or no bass rock band setting. If you're looking for a buttery classic rock overdrive or shimmery lead tone, the Apocalypse will clearly not be your cup of tea. However, for those looking to conjure a wall of sound in the shoegaze, metal or grunge mold will find in the Apocalypse a swiss army knife.
The controls are straightforward. There's a notched switch to toggle between the 5 fuzz circuits, trim pots for drive and volume, and a huge EQ knob for fine-tuning the settings (it's big enough to adjust with your foot during a live set). It's about the size of two compact boss pedals, housed in a sturdy sea foam metal casing. The only feature I miss is a foot-switch to move between the distortion settings on the fly.
As the name suggests, the Apocalypse is an attempt at being an all-end boutique fuzz box. Approaching $300, it aims to preach to the converted fuzz fanatic. Still, if you're going to get one pedal in this vein, this is is easily one of the most cohesive collections of heavy tones available from a single pedal. – Ezra Tenenbaum