Posted by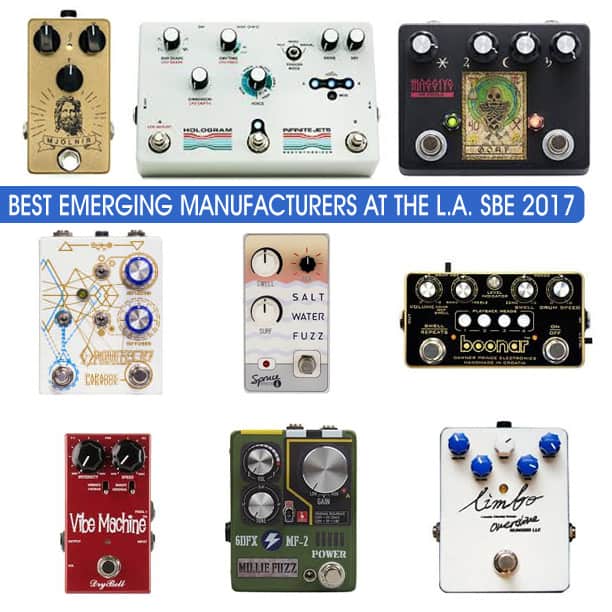 The results for  the Best Pedal Emerging Manufacturer Contest at the L.A. Stompbox Exhibit 2017 are in!
But, before we get to the results, a little explanation:
WHAT IS THIS?
The Stompbox Exhibit's "Best Emerging Pedal Manufacturer Contest" is an idea we launched in September of 2017 at the 7th Brooklyn Stompbox Exhibit, to support pedal companies that are not established yet.
HOW DOES IT WORK?
We poll the visitors of the event and ask them to vote for their three favorite manufacturers in order of preference. We assign 3 points for each time a company was picked as a first choice, 2 points when it was picked as 2nd choice, and 1 point when picked as third.
WHAT ARE THE PRIZES?
The prize for the top 2 companies is a $4-500 order in pedals and a manufacturer profile page like this one, on this very blog. These pedals will be sold through our new online shop and will also be available physically at Brooklyn's Main Drag Music for those interested in trying them.
WHEN'S THE NEXT CONTEST?
We are planning on having one of these contests at every Stompbox Exhibit event, so the next one will be linked to our upcoming Austin Stompbox Exhibit, scheduled for the Friday and Saturday during the unmentionable music festival hosted in the South Western, Texan city.
HOW DO I PARTICIPATE?
Simply sign up for the next Stompbox Exhibit! (You can email Paolo for more info).
---
Now that we got that out of the way… here are the three winners and the final top ten!
1. Mythos Pedals – 84 points
2. Hologram Electronics – 73
———————
3. Massive FX – 64
4. Paradox Effects – 62
5. Spruce FX – 50
6. Dawner Prince
7. DryBell
8. 6 Degrees
9. Nunomo
—
Congrats to the winners, see you back in March!
The Stompbox Exhibit and Delicious Audio's Folks