Posted by
Backwords' Gear:
CAD Equitek E-100

    " I was never a mic expert, but these 90's CADS are fairly cheap, sound clean and a little vintage, and have done the trick on so many Backwords recordings. "
Our friends at The Deli NYC are big fans Backwords' chilled and poli-instrumental approach to psych-folk-pop, and we also appreciate their not too lo-fi recordings (we feel like this "ultra-lo-fi" thing is getting a little out of hand here in NYC… it's time to make things sound decent!). Mixing old timey music with gentle psychedelic pop influences reminiscent of Flaming Lips and Grandaddy, this band creates soothing musing – but weirdly so, in a lo key, unassuming, almost bucolic kind of way. We asked them our usual questions about recording.
How much of your recording is done at home versus in the studio? 
In 2007, I (Brian Russ) started recording tracks on a borrowed laptop using the first edition of Garageband and the built in Apple iBook microphone to capture every instrument or vocal.  After getting about 5 or 6 songs down piece by piece, I started a "Backwords" Myspace page (remember Myspace?!) and circulated the music among friends and musicians.  A couple of us started jamming on the tunes – and before we knew it – we decided – let's get ourselves in a "real" studio and do some versions of these + other songs.  The band was formed in Brooklyn, but all of it's original members were from Philadelphia.  And a couple of us literally lived in Philly at the time as well – so we often went back and forth splitting our rehearsal time and playing shows in both towns equally.
But the first thing we ever did as a band was record and album.  This was done in 7 around-the-clock sweaty August days and nights at our friend Jared's house in the Kensington neighborhood of Philadelphia.  Jared had transformed his bedroom into a pretty legit recording space.  When it came time to sleep he moved some amps out of the way each night and pulled down a mattress that leaned against the wall.  We only took breaks for hoagies and the occasional VHS viewing that week.  This wild session turned into our first album "Factory Angels."
About a year later, after having some shows under our belt, we followed that up with an EP recorded again at Jared's Philly studio/bedroom, called "The Buffalo Still Roam."
Then some members of the bands went their separate ways, and we kind of lost our strong Philly connection, so we decided – since we live in Brooklyn – let's start recording in Brooklyn.  Over the years, being music weirdos, we all amassed a modest collection of vintage mics, toys, pedals, gear and instruments.  We only needed a few missing pieces to built our somewhat low-budget but nifty little recording studio here in our home in Lefferts Gardens.  We call it Campers' Rule Records – and have since recorded a bunch of friends bands besides our own.
So our last two albums "Quilt" and "By the Neck" were completely recorded here at Campers' Rule Records.  The major advantage here was being able to take our time and experiment with different sounds and ideas as much as possible.  We were able to start incorporating non-traditional instrumentation and arrangements – started throwing banjos, accordions, Casio beats, violins and other bells in whistles into the songs.  Since there was no real "clock" to be watching there was no reason not to try anything.
Possibly even more key to our sound was having the freedom to really pick apart the vocals and getting some really interesting harmony parts down bit-by-bit.  It really takes us a while to figure out who will be singing what – we'll often say, "let's do this part like a Beach Boys harmony," or "let's do this like the Ronettes or something" – but we really don't have a clue what that means musically – so we just experiment until the harmonies feel right.  Recording at home has been great for that.
So up until this point, Backwords has always been a "home recording" band.  What's interesting here though is – we've just decided we're not going to do it like that anymore.
In August we booked some time at a more pro music studio (5D Studios in Sunset Park) and worked with a dedicated non-band-member engineer/mixer, Babi Pal.  We're totally excited about this because we've often been pegged as "lo-fi" (which we like!) but we're looking to sort of clean up the sound, and really focus primarily on being musicians  who play instruments this time around.
If you use a studio, what do you record there and what do you record by yourself and why?
We did these August recordings almost completely live allowing for some real bleed-in between all the instruments and room mics.  Over the next few months, we'll be recording some overdub DI tracks outside of the studio in our our home to really add that psychedelic element to the songs.  We figure a DI signal on a Reason synth, Nord or Korg is going to practically sound the same in any environment.  But all drums, bass, guitars and vocals have been done in the studio this time around.
What are the pieces of equipment that you find particularly inspiring when recording at home?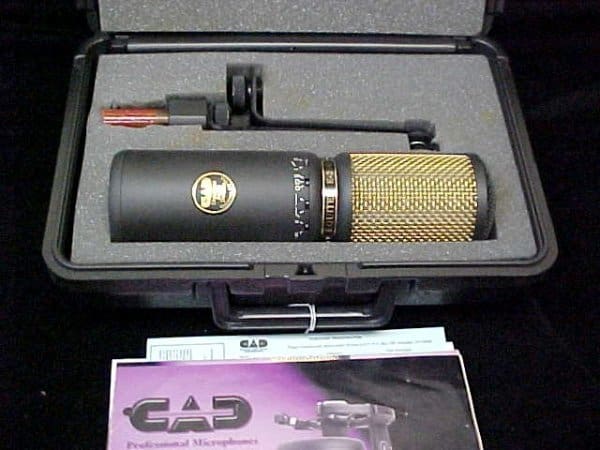 I started using early model made-in-the-USA CAD microphones from the 90s mainly because I was finding them pretty easily on Craigslist and Ebay.  I feel in love with their versatility and the Equitek E-200 in particular I've used for so many different applications – all of our vocals are recorded on it, I used it to mic guitar amps.  I've set it up as a room mic, recorded acoustic guitars, violins and all of it came out sounding really natural with a nice overall balance between high and low end sounds.  I was never an expert on microphones, but these 90's CADS are fairly cheap, sound clean, a little vintage, and have done the trick on so many Backwords recordings.
I also use an original CAD Equitek E-100 – really great on the kick drum (something I've recently discovered) but – this mic uses internal 9 volt batteries and stopped working on me recently.  I tried troubleshooting it myself, then reached out to CAD (something that wasn't easy) and finally the dude told me he can't offer any help on their older gear and couldn't even recommend a licensed repair tech in the NYC area… so that was a little weird…
Also, we like to light a lot of sage while recording – maybe that smokiness comes out in our tunes?  I'll bet the mics pick that up.
What one piece of hardware/software would you most like to add to your recording setup (cost not an issue)? Why?
Always wished I could afford/acquire a really old tube driven vocal preamp.  Or maybe a modern rendition like the Manely 40MP Mono Tube Preamp.  Something to really spice up the old human voice!

Do you expect your next record to be self-produced, or would you like to work with a producer? If it's the latter, who would you most like to produce your band, and why?
Luckily we just got to work a bit with our good friend Babi at 5D Studios in Sunset Park.  Babi has a nice understanding of Backwords and what we're setting out to do musically.  Whenever this next album is finished – he's going to be the most important factor in the overall sound of it.
Do you use rack effects or guitar pedals to forge your own sound? If you do, please list the ones you use the most and let us know why you love them.
When we recorded back in Philly with Jared, he swore by the Nuendo software and had tons of plugins and effects that he would pull up and throw on stuff.  When we started recording on our own, I swore by Garageband – and to be honest on our last two recordings – there are cases where I chose a DI guitar running through a "fake" digital Garageband amp over mic-ing a real amp.  I've use Garageband effects to their fullest – everything from the built in compressors, to the reverbs and overdrives.  A lot of people think you can't really do much with Garageband or that it sounds too digital, but there is plenty of tweaking that can be done on the stock effects and you can get into some weird zones where you're not sure how you just got that effect to do what it just did and it's super cool.
People sometimes tell us that our recordings sound really natural and organic – but when I think about it, there's tons of crappy stock digital Garageband effects on everything – so I'm not sure how we achieved that!
Do you have a particular recording style that you aim for? What techniques do you employ to recreate it?
I like to fully demo a song on my own before showing it to, and then recording it, with the band.  If I write a song, I tend to sit down with it and let it stew for a while, figure out all the basic skeletons in terms of rhythm section, arrangements, layers as well as get a few interesting instrumental things going.  Luckily, I've had the luxury of just sitting at any and every instrument here at our little studio and fully demoing out every piece of a song.
After sharing these demos with everyone – we all pick them apart and everyone chimes in with their thoughts and new ideas – then we rehearse them a bunch, everyone adds their unique voice and then start recording.
Tim Pioppo, our bass player, also writes songs in the band – and his style is a bit different.  He'll come to us with a basic idea, and we'll all work  it out together and develop an arrangement by playing it over and over on the spot.
Who determines the direction and style of your recordings?
We pretty much have been doing this all ourselves.  I personally have produced/mixed our last two albums – so their sound is as close as to what I hear in my head as I've ever been able to get on a recording, I guess.  We'll see how different things sound now that we've stepped out of the basement for this next one…
Is there a person outside the band that's been important in perfecting your recorded or live sound?
Our buddy Will Pollard used to stealth tape our live shows – in the vein of Grateful Dead live bootlegs and stuff – that was pretty cool – although we never wanted to listen to them.
What other artists would you say have had the biggest influence in your approach to recording? Why?
When Yankee Hotel Foxtrot came out and the subsequent film I Am Trying to Break Your Heart – I really thought – yeah, these guys are doing this right – this is the way to record.  Have your own gear, your own space – and allow yourself the time to really let songs reach their full potential.  A lot of songs on that album are just simple folk progressions – but the arrangements are so cool.  There's a part where Jeff Tweedy says something like, we try to erase as much guitar from each song as we possibly can and allow for other instruments to take over – and I've always kept that in mind.  Too much guitar can ruin songs – especially when there is an opportunity to really play with dynamics in the studio.  Also, I can't tell you how many Phil Spector, George Martin, and the making of Pet Sounds videos and Youtube clips I've watched at this point.
Lastly – wanted to say that we've been really inspired by some of the late 60s early 70s Neil Young and Crazy Horse recordings – such as Everybody Knows This is Nowhere and Tonight's the Night.  A couple of us recently read the Neil biography Shakey – man, he did some wacky stuff – like would only record on full moons, or make everyone wear sunglasses and record in the dark, or even force people to play instruments they didn't know how to play.  Love all of it.
It's also fun to watch the making of The Dark Side of the Moon.  It seems as if those epic Glimore solos are just one take out of millions that he probably threw away.  Could that be possible?
Would you say that your live show informs your recording process or that your recording process informs your live show?  Both?  Neither?
This has always been a hard one to figure out.  There are things on the recordings you'll never get live out of us.  And there's something special about the direction a live show can go that you'll never hear on one of our recordings, we like to think.
Is there a piece of equipment that you find particularly useful on stage?
We like the stage to smell nice – so our drummer John always lights incense – unless told not to by the venue (which sometimes happens).
With bands doing more of everything themselves these days (recording, performing, self-promoting, etc.) and the evermore multimedia nature of the world, how much effort do you put into the visual component of your band – fashion, styling, photography, graphic/web design, etc.?  Do you do these things yourself or is there someone that the band works with?
Well – in the history of our existence we've done a lot of things on our own like – sown together banners with our logo on them – designed album artwork and posters, screen-printed our own t-shirts, ran our own web, Facebook, Bandcamp and all that – but that said, we try to cultivate a collection of artists and friends as much as we can.
Our friend Brad Haubrich – an amazing artist out of Philly – designed at least something on every one of our 4 releases, whether it be the front and back cover, the inside art, the CD itself or any and all of the above.
Our friend Jenelle Campion (who the band is inadvertently named after) actually designed and sowed the quilt (complete with eagle in mid-flight) you see on the front of our record Quilt.  She also stitched each song title for the back cover.
Jim Chupka has designed posters, stickers, and took many a photo of the band.
Ali Maggy, Ben Johnson and Kenny Abdo have all directed multiple music videos.
Christine Rath has contributed some significant artwork to the band and continues to help out.
Basically we reach out to our artist friends all the time for a little help – and over the years they have been so kind with contributing to the Backwords vibe.  We love them all and wish we could employ them with a steady salary!  Or at least take them out to tacos and beers once a month!
What do you find to be the most challenging aspects of the recording process? On the flipside, what aspects are the most rewarding?
Recording music is one of the most amazing things in the world to me.  I love every part of the process.  From the tedious volume slider, to the 100th different mic placement – it's such a huge undertaking with a result you kind of have no idea what will finally sound like.  Your whole mind, body and soul gets maxed out.  It's really far out – like taking acid or going on a backpacking trip through the Amazon.  The whole thing is a challenge and new problems come up the further you get into it – and I think that's why we love it.  It's just a magical way to explore everything a human being is capable of doing – then put that together with a group of friends and it all multiplies by billions.