FREE SHOW
+ DEALS ON PEDALS AND SYNTHS!

****March 14th on the World Wide Web****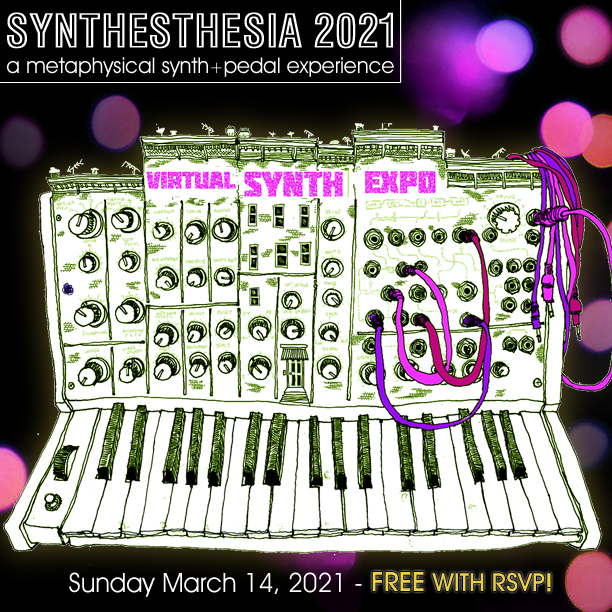 Our real-life Synth and Pedal Expos are among the best-attended real-life events for musicians in North America, with yearly editions in NYC, Los Angeles, Austin, Montreal, Toronto, and Portland.
The pandemic has been getting in our way, but it's not stopping us!
Launched in the fall of 2020, SYNTHESTHESIA is an online event that allows synth and pedal-heads to interact with synth builders and learn from reps and pros. Its first edition attracted over 4,000 visitors.
As all our events, SYNTHESTHESIA is FREE with RSVP and its 2021 Edition is scheduled for Sunday, March 14th from 1.30 pm to 9.30 pm ET!
Here's a list of what visitors can expect:
– Live streams with product specialists
– Product launches
– Q&A with experts
– Synth and Pedal Giveaways
– Deals on new devices through manufacturers and stores
The event is in open format and will be visible through any Internet browser. RSVP FOR FREE HERE.
—
CONFIRMED VENDORS (More TBA)
ADDAC
Analogue Solutions
Artiphon
Arturia
Chase Bliss Audio
Circuit Happy
Conductive Labs
Delicious Audio
Dreadbox
EarthQuaker Devices
Elektron
Eventide
Hosa
Humble Audio
IK Multimedia
Jomox
KORG
LA Circuits
Landscape
Modal
Novation
Playtime Engineering
Playtronica
Red Panda
Sensel
Spitfire Audio
STEM Modular
Synthtopia
Studio Electronics
TORAIZ
Vox Pedals
Waldorf
–

OUR "REAL LIFE" SYNTH AND PEDAL EXPOS…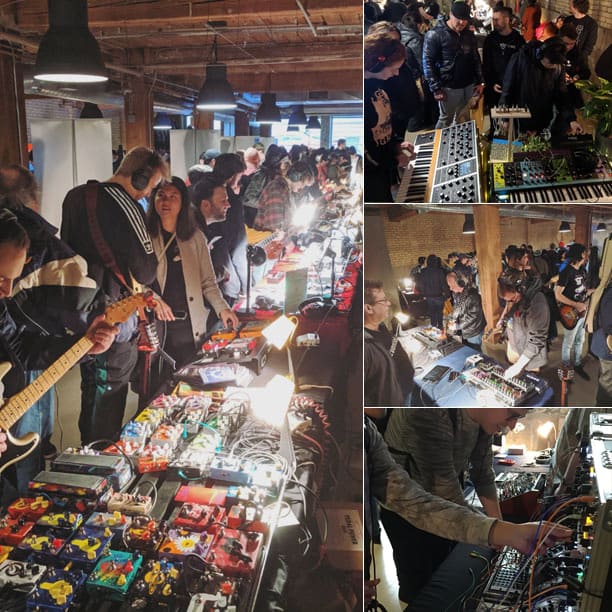 Since 2014, the 
Synth Expos
 have become an unmissable appointment for all the synth lovers in several North American cities (including NYC, LA, Toronto, Austin, Portland and Montreal) to get a chance to try the new synths released by large manufacturers and discover new devices by boutique and modular builders.
The Delicious Audio Team