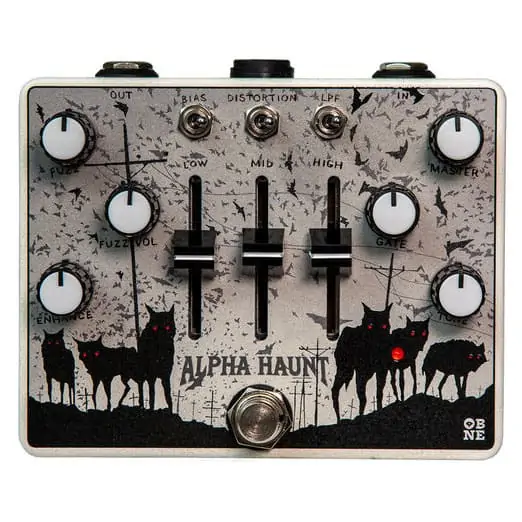 Old Blood Noise Endeavors has released a new (smaller) form factor for their Alpha Haunt, a fuzz pedal that lets you coax a vast range of fuzz textures, from open overdrives to squashed sputters. The circuit is unchanged, while the new (very haunting!) art is by Daniel Danger.
The Alpha Haunt features control knobs for Master Volume, Fuzz Volume, Enhance, Fuzz, Gate, Bias and LPF (Low-Pass Filter), as well as an active three-band master EQ with slide controls for Low, Mid and High frequencies. In addition, there's a Fuzz Range switch that works in conjunction with the tone controls to give you further options.
The Enhance control governs the volume of the unit's parallel Enhance circuit, allowing players to bring in body and clarity. The pedal features true-bypass switching and operates on a standard 9-volt DC center-negative power adapter.
The Alpha Haunt is available now for $229 exclusively through the Old Blood Noise Endeavors Reverb store. The first run is limited to 175 units in gold.
Watch the videos below, and visit Old Blood Noise Endeavors for more information.
Here's the Old Blood Noise Alpha Haunt's old look: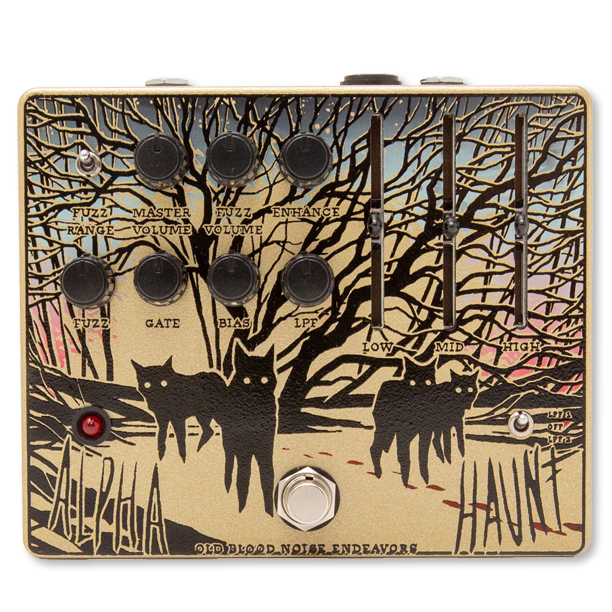 Two years since its initial release, Alpha Haunt Fuzz gets a makeover. The pedal explores the vast variety of sounds you can coax from one fuzz circuit, from open overdrives to squashed sputters. Now in a more pedalboard-friendly package, the Alpha Haunt continues to offer users its uniquely versatile control set.

The Alpha Haunt features:

Variable control over fuzz gain, compression, and tone to set the base fuzz sound

Switchable fuzz range, bias, and tone control voices for further options

A parallel Enhance circuit with independent volume to bring in body and clarity

Active three band master EQ to shape the output

Master volume to control the overall output level

Soft touch relay bypass switching and standard 9VDC center negative power