Posted by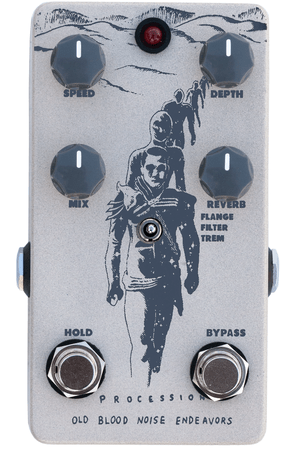 Old Blood Noise is an up-and-coming guitar pedal manufacturer with some really interesting design ideas – come check it out at our Summer NAMM Stompbox Exhibit if you plan to be in Nashville on July 9-11.
Their take on reverb, aptly titled the 'Procession' offers some sounds that come straight out of outer space. This is not your typical reverb. It features 3 modulation setting options: flange, filter, and tremolo – in addition to more classic reverb sounds. By simply experimenting with the array of available tones, some truly other-worldly sounds can be obtained.
The mix control is a standard wet/dry blend, and the reverb knob tailors the amount of decay to the reverb effect. The depth and speed knobs control the modulation mode selected. There are two footswitches, one is a standard on/off switch, the second a 'Hold' switch that "locks in" and sustains a note for as long as it is pressed.
Additional features include durable metal enclosure, optional 9v battery or power adapter, and hand-wired analog design, check out the video below.
With this and other interesting pedals (check out their take on delay and fuzz) Old Blood Noise is definitely a designer to keep an eye on. – Brandon Stoner