Posted by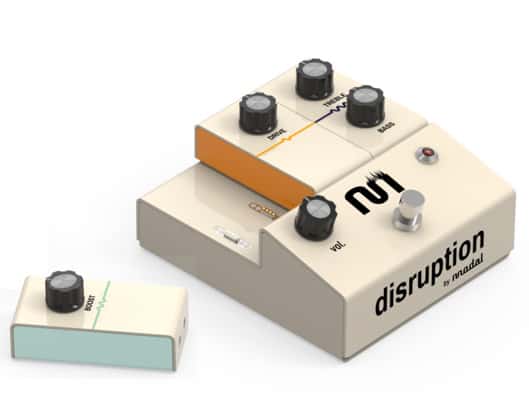 Even though guitar pedals are, in their classic format, already a modular concept, more than one company has flirted with the idea of creating a modular pedal that can host several interchangeable effects.
At Summer NAMM 2018 we stumbled upon a new take on this idea by Georgia based Modal Effects. Their Disruption modular pedal concept is intriguing because it's straightforward, flexible, clean looking, space-saving and also because allows guitarists to easily modify the chain of effects in between songs.
Disruption consists of a mother pedal (called "Disruption Base") featuring just a footswitch and a Volume know, which can host up to three effect modules, whose order can be organized as you wish.
The Base can be purchased with the 01 Drive and the T1 Tone module for $200, while a dozen of extra modules (currently limited to EQ, gain and fuzz effects) can be purchased separately for less than $50 each or in discounted bundles – you can see them all here.
Here's a video directly from the manufacturer.