Posted by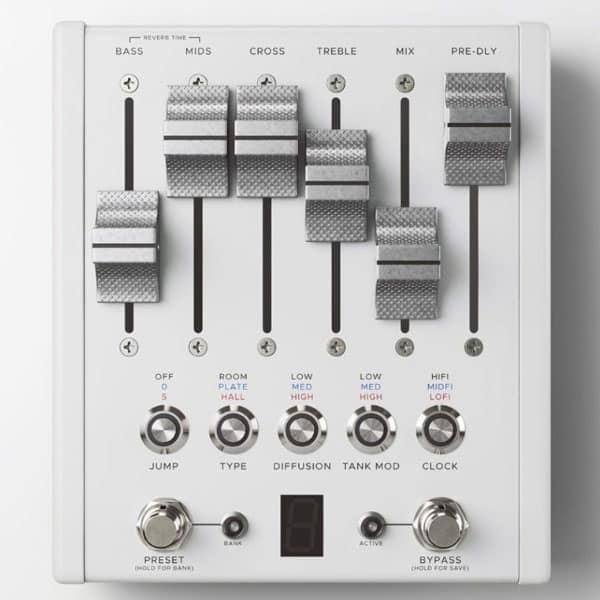 At NAMM 2021 Chase Bliss Audio and Meris unveiled the prototype of a pedal adaption of the venerable Lexicon 224 studio reverb, built on the moving-fader format of Chase Bliss Audio's Automatone series and featuring three algorithms (Hall, Room, Plate). The pedal was named CXM 1978 after the year ofd the release of the original unit.
Features include:
– Moving faders with presets & MIDI control
– 32 Bit AD/DA
– LoFi Mode for vintage digital sounds
– 3 Classic Algorithms
– Adjustable Decay Crossover for fully shapeable reverb tail
– Expression pedal control over all sliders
– Stereo input and output
– +/-15V rails for line level input
The street price is still unknown, but it won't be cheap, considering that the first member of the Automatone family (the Preamp MkII) will be shipping in May with a hefty price tag of $749.
Here are the first videos of the Chase Bliss & Meris CXM 1978 Reverb.
Chase Bliss and Meris proudly unveil CXM 1978™ during NAMM 2020. Both USA hardware manufacturers joined forces to create a pedal adaption of the beloved and famous (1978) studio reverb. Using Chase Bliss Automatone's robust industrial housing and Meris pro-audio level sound design, the CXM 1978 offers a modern take on its inspiration.

Armed with 3 massive algorithms, CXM 1978 takes your guitars and synths to lush new soundscapes.

Features include:
– Moving faders with presets & MIDI control
– 32 Bit AD/DA
– LoFi Mode for vintage digital sounds
– 3 Classic Algorithms
– Adjustable Decay Crossover for fully shapeable reverb tail
– Expression pedal control over all sliders
– Stereo input and output
– +/-15V rails for line level input

Available: Late Summer 2020 Price: TBA